Milk Makeup's New Moisturizer Uses A Vegan Milk You Probably Haven't Heard Of (Yet)
Milk Makeup/Instagram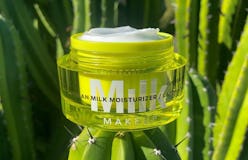 In the alternative milk pageant, oat milk would win Miss Congeniality, if not the crown itself. Sure, soy milk was one of the first — and pea milk or banana milk more head-turning — but oat just has that X factor. (Which really, could be the fact that it steams up perfectly with espresso.) It's no wonder that Milk Makeup's new Vegan Milk Moisturizer relies on the dairy substitute: Alongside grapeseed oil, plant-derived squalane, and shea butter, the beauty brand's $38 face cream gets its seriously hydrating kick from everyone's favorite non-dairy milk.
But surprisingly, oat milk isn't alone in the formula. According to a post on Milk Makeup's Instagram account, the just-launched moisturizer taps into the power of a few types of vegan milk you probably haven't tried in a latte (yet — who knows what will happen in 2020). "We took plants from the desert and milked them," the brand shared in the caption. "Kalahari melon, jojoba, aloe vera, and baobab quench skin while sealing in moisture all day long."
This combination is then mixed with soothing fig milk — "Yep, we milked figs too!" added the brand in the same IG post — and moisturizing argan milk, as well. When combined together, the antioxidant-rich vegan ingredients moisturize, soften, and calm your skin, while still being lightweight enough for morning and evening use.
Another win for those still on the hunt for their holy-grail moisturizer: The Vegan Milk Moisturizer is free from added fragrance — as well as cruelty-free, and made without gluten, parabens, silicone, sulfates, and talc. You can even test out a smaller size before you splurge on the regular jar, too; Milk Makeup has already launched the Vegan Milk Moisturizer Mini, a 0.53-ounce container available for $19.
To try it out for yourself — and experience what the brand is calling its "Desert Milk" blend — you can pick up a jar from Milk Makeup's website, or find it online at Sephora (and in stores starting Dec. 26). Ahead, the new Vegan Milk Moisturizer.