Milk Makeup Is Launching Even More New KUSH Products & They're Coming Very Soon
Courtesy of Milk Makeup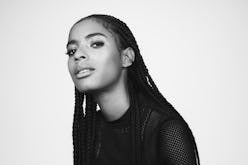 Finding the perfect mascara that gives you long, voluminous, and envy-inducing lashes can be tough. Finding a waterproof mascara that does all of the same things without running down your cheeks during teary-eyed moments can feel virtually impossible. Most of the time, waterproof mascaras can either feel tacky or a little too waterproof, resulting in an uncomfortable feeling around your eyes that you'd rather avoid. However, among all of the mascaras on the market (which is to say, a lot), Milk Makeup's KUSH Waterproof Mascara might be the new holy grail.
Though the vegan and clean beauty brand recently celebrated its KUSH collection's first birthday with the launch of its Cannabis Hydrating Face Mask on April 2, it certainly didn't wait for the excitement to settle before announcing new products to the line. Soon, you'll be able to top off your daily makeup routine with the new waterproof mascara — and more.
Cheekily launching on April 20, the brand's newest mascara will give you the same level of volume as its best-selling KUSH High Volume Mascara while providing you with a smudge-proof look. Available for $24, the KUSH Waterproof Mascara has film formers in its formula, which promise a pigmented look that won't budge.
The formula's key ingredient, though, is hemp-derived cannabis seed oil, which conditions your lashes and leaves a flake-free finish, according to the brand. The mascara also contains sunflower seed oil and poppy seed oil to keep your lashes hydrated and moisturized without compromising the volume or lasting power.
If that wasn't enough, Milk Makeup is launching a Lash Primer and new shades of the Fiber Brow Gel as new additions to the KUSH collection. The $24 Lash Primer features heart-shaped fibers — the same type found in both of the brand's mascaras and brow gel — which will give your lashes an extra boost before swiping on mascara.
Milk Makeup is also expanding its collection of brow gels with five new shades, ranging from a cool blonde shade to a deep dark brown/black hue. The $18 Fiber Brow Gel also has a mix of hemp-derived cannabis seed oil and a flexible gel to create a formula that will give you the look of thick and firm brows.
Be sure to head over to Milk Makeup's site on April 20 — there's no doubt that these products will become staples for your spring beauty routine.
Readers should note that the regulations and data surrounding CBD are still developing. As such, the information contained in this post should not be construed as medical or legal advice. Always consult with your doctor before trying any substance or supplement.