Those Square-Toe Sandals All Over Your Instagram Are Super On Sale At Miista Right Now
Miista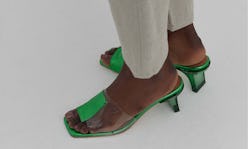 You know those strappy, barely-there sandals you see day after day while scrolling on Instagram? Or those square-toed mules, or vinyl heels? All of those very well may be from Miista. The footwear brand has secured a fond place in the fashion community's heart — even more so now that Miista's summer 2019 sale has discounted so many of the brand's on-trend sandals. For a limited time, the sale offers a chance to get Miista's shoes for up to 50 percent off; and yes, select styles are already dwindling in stock.
One in particular: Miista's Eva mules, a blocky, strappy sandal made from shiny metallic leather and finished with an on-trend square toe. Originally $280 and $275 (depending on which of the three colors you snag), the Eva is marked down as low as $192.50, bringing it well below the original price. So, if you've been on the hunt for your own take on Instagram's naked sandal trend, you may have finally found your match.
It's hard to resist the highlighter hues (and overall '90s vibe) of Miista's neon Gabriella sandal, as well; the combination of electric leather and clear heel is just too good. Once $385, the orange, yellow, and green colorways are marked down to $231 for a limited time. Try snagging the orange leather option if you're new to the neon trend — the warmer color makes it feel ever so slightly more subdued than the yellow and green shades.
However, if bold is what you aim for, grab Miista's Indira metallic vinyl sandals. As you may be able to tell from the name the shoes are loud in the absolute best way, combining shiny leather, clear panels, and a sloped see-through heel similar to the Gabriella design. Marked down to $231 from $385, the shoe has been spotted on Gala Gonzalez, so you know you'll have plenty of fashion inspiration if you do decide to buy.
Ready to embrace a summer of sleek sandals, but not sure which ones to buy? Keep on scrolling. Nine sandals from Miista's summer sale are ahead.