This Celebrity Stylist Just Curated A Bag Collection For Fall 2019 (& It's Available Now)
Courtesy of Brahmin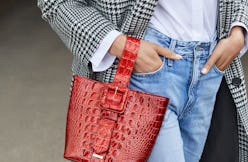 When deciding on which bags to include in Micaela Erlanger's curated Brahmin collection, the celebrity stylist and author factored in three elements. "I definitely wanted to curate something that was going to be fashion forward, stylish, and a good selection of pieces that fit every budget for every type of person," Erlanger tells The Zoe Report over the phone. Though that may sound like no small task, the collection itself appears completely (and unsurprisingly) effortless. Released in-store and on Brahmin's website July 30, the lineup is part of Brahmin's Fall 2019 collection — which, by the way, means autumnal shopping has officially begun.
Though a partnership between Brahmin and Erlanger has been a long time coming. "I was introduced to the brand I want to say about a year ago or so," says Erlanger, who has paired Brahmin's chic bags with the likes of Lupita Nyong'o and Lucy Hale. "I saw their presentation at a press preview, like a stylist does. I was out in the market looking for new products for my clients, and I was really excited to see something new that I hadn't seen before. Even though the brand's been around for a long time, it was something that was new for me, and I thought it was great."
For her collection, Erlanger zeroed in on five key Brahmin styles for fall 2019 — the Faith, Ingrid, Ella, Evie, and Priscilla — with bags beginning at $265 (such as the Faith Melbourne and Evie Melbourne). "We really wanted to make sure that there was a bag for every woman and for every budget. Then, of course, style. There's some amazing pieces in there. There's this one new style that I'm particularly excited about that's called the Faith bag, and I can't wait to get it into the studio ASAP for my clients to carry," Erlanger notes. "It's just very versatile, and it fits exactly what you need."
Which Erlanger made sure of, too. "I had to test it out myself, and I made sure my cell phone could fit in it and my wallet — even if you have a big cell phone it will fit in it," she adds. The stylist also fell for the bag's practicality, and the fact that it can be worn as a crossbody when you're out and about. "But I like it as a wristlet," she says. "There's this shorter strap, it's kind of a defining strap of the style, and that strap is also adjustable. So I like to wear it on the longer strap and that way it's like a very chic little pouch."
However, each bag in the collection is just as fundamental, building a solid foundation for your fall 2019 style. "Then the other pieces are just bags that I thought were kind of the bags every woman should own. All of the styles that I picked come in multiple colors — and that's another thing that I absolutely love about Brahmin. The materials, and the color, and the variety. There's just so many options and they're all amazing," Erlanger adds. "And if you know me and you know my style, I'd say I'm not afraid of color."
And if you are shopping the collection with fall 2019 in mind, you're in luck, as the stylist has already keyed into the bag trends she thinks will be major. "I think you're going to see a revival of some of the smaller sizes. Like we've had the micro micro trend, and that's just not practical," Erlanger explains. "It's cute and all, but now I think there's sort of this mini, smaller pouchette that we're seeing. I also think that we're going to see more textured leathers, and I think we're going to see more hardware on bags.
This isn't the only Brahmin and Erlanger collaboration in store, either. "We can't talk about anything really formally yet but there's some exciting things to come for holiday and I can't wait for everyone to see what we have in store," she teases.
For now, explore the first curated wave of bags on Brahmin's website, or in stores. Below, a selection of Erlanger's Brahmin collection.