M.Gemi's Having A Sale On Sandals & You Need These Snakeskin Mules Immediately
M.Gemi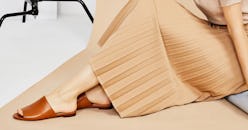 Though you can shop sandals all year long, savvy shoppers know that this time of year is arguably the best moment to scoop them up. With brands and retailers ramping up their markdowns to make room for the new fall arrivals, it gives you the opportunity to score pairs you can still wear well into September — and be grateful to see in your closet next summer — for so much less. And, when it comes to savings events, M.Gemi's End-of-Season sandal sale is one you should definitely prioritize.
Known for serving up a range of stylish shoes that are all handmade in Italy, M.Gemi has kicked off a major sale on its open-toe styles. The sale is straightforward, as you'll see the discounted prices noted below each pair (a few styles are even marked at under $100). On top of that, if you purchase one pair of sandals you can earn 40 percent off a second pair — the discount will apply to the lower-priced item automatically at checkout.
Within the mix of markdowns, you'll find everything from stylishly understated flats and lace-up sandals to a modern '70s-inspired mini platform style that you can get your hands on for $175 instead of $248. Available in a soft suede or luxe patent leather, the low block-heel shape will look great paired with breezy midi dresses now and with sleek trousers come fall.
Another standout in the group and a brand best-seller is The Nuvola Mule, a simple-but-chic style that's been reduced to $175 from $198. The effortless slide is up for grabs in four neutral hues, as well as in two sleek snakeskin prints. Better yet? This sandal has enough coverage to keep your feet comfortable when the temperature begins to cool down.
As for those styles now marked to below $100? First peek at the just-under-five-star Medio Due sandal for $95 (originally $178). The thin-strapped flats come in a slew of colors and will easily become a pair you toss into your getaway bag for years to come. Or, if you're still after an elevated thong sandal, take a look at The Limone, which is also down to $95.
There's no end date listed yet for this sale, but given the popularity of this brand, you're better off shopping sooner rather than later. Continue on to see a selection of price-slashed sandals below, and head over to M.Gemi to view the rest of the deals.