This Is The Romantic Brand To Put On Your Radar From Fashion Week Mexico City
Courtesy MBFW Mexico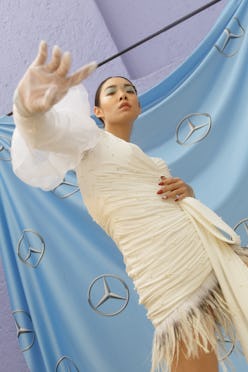 Mexico City may not be a locale on your runway radar in the same way that Milan or Paris is. When it comes to the fashion industry, the city definitely flies under the radar. But, for those who have traveled to the city, its vibrance is an immediate draw — both on and off the runway. "It's the color; they're not afraid to use color," explains Rina Sawayama a, a London-based musician and fashion It-girl, who had the chance to check out the designers at Mexico City Fashion Week while shooting a campaign with Mercedes-Benz, who sponsors the multi-day fashion experience. "When you say Mexico, colors are what come to mind. Even the place we shot was designed by [famed Mexican architect Luis] Barragan was so beautiful. It's like a still portrait."
Like any other international fashion week, the range of shows included in the multi-day affair was sweeping. A few standout collections worth nothing included the cool and sophisticated Mexico-city based label Sandra Weil and the artful, feminine designs of Kris Goyri, along with a favorite of Sawamaya's, famed Mexican designer Benito Santos. "When I'm performing and I'm looking at designers I'm always thinking about how is this look going to create a new person," explains Sawayama. "I feel like there's a character and personality in these."
While the use of bold, unabashed colors is a definite theme throughout the Spring/Summer 2020 collection in Mexico City, the week's designers also highlighted a number of other bold trends that set the city apart. Prim details like bold ruffles, bows, and feathers appeared through many of the weeks collections. And, like the major fashion month trends seen just weeks before in Paris, Milan, London, and New York, Mexico City's runways were full of the romantic details and voluminous silhouettes already seen at brands like Oscar de la Renta, Balenciaga, and Alexander McQueen.
Courtesy MBFW Mexico City
Courtesy MBFW Mexico City
But the appeal of attending a smaller fashion week, is that locales like Mexico City, Tbilisi, and even Sydney offer emerging local designers the opportunity to show their designs on a global stage, and the chance to catch the eye of trendsetters like Sawayama who are looking for new labels doing something outside of the everyday. "During fashion week, I'm constantly keeping up with the collections. Stuff like [London's] Fashion East, where the emerging designers are aggregated into one show ... I just love those." She adds that she also uses Instagram as a tool to discover these emerging designers, saving the best looks as a reminder for future shoots or performances.
Whether or not you've had the chance to travel to Mexico City yourself (editor's note: It's definitely worth a visit — for the food alone), you'll want to follow the city's coolest emerging designers via social media for a fresh, colorful take on trends that feels distinctive to the locale. While oversized bows or tiered ruffles may not be for everyone, the optimistic energy of the shows held at MBFW Mexico City is worth embracing in your own wardrobe — whether it be by small pop of color or a full on sequin ensemble.