How Mejuri's Latest Collection Takes Its Classic Designs To The Next Level
COURTESY OF MEJURI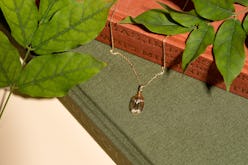 If you thought dainty jewelry couldn't be eye-catching, think again, because when it comes to Mejuri's Menagerie collection the two live in perfect harmony. The direct-to-consumer brand that's known for serving up fine jewelry at an affordable price has launched a new range of pieces that bring a fresh and meaningful twist to its elevated designs. So, if you're in the market for everyday pieces that'll still standout, this collection may hold exactly what you're after.
From its popular Zodiac collection to its lineup of classic hoops and rings, Mejuri's array of jewelry box essentials have made it a go-to destination for fashion girls to shop timeless treasures. And now the brand is expanding its offering once more with a curated collection inspired by sacred symbols. Unveiled on Oct. 14, the "Menagerie" collection features three symbols — a scarab for protection, a fish for creativity, and a snake, which symbolizes rebirth.
"We're always about classics with a twist, taking iconic narratives in fine jewelry and redefining them in new and exciting ways that fit our vision of styling," notes Justine Lançon, Creative Director of Mejuri, in a press release from the brand. "The snake, scarab, and fish are just that: quintessential symbols that have been featured into fine jewelry time and time again. We like them because they're fun, quirky, and a little mysterious — which says a lot about the women wearing them."
The collection includes a trio of necklaces, including two dainty 14-karat yellow-gold pieces: the Scarab Necklace for $300 and the Fish Necklace for $285. But, for those shoppers looking to spend under $100, take a peek at this $95 gold vermeil Scarab pendant — a style that'll bring a unique final touch to casual day looks as well as cocktail attire.
In addition to necklaces, you can also add a ring as well as a pair of earrings to your jewelry tray, too. Ringing in for $65, this Scarab earring set is crafted in sterling silver with a thick 18-karat gold layer on top, which will bring a hint of face-framing shimmer. Meanwhile, if you're hunting for a new ring to add to your ever-growing collection, the $280 14-karat yellow-gold Snake ring is worthy of your attention. The sleek, textured band will make for a subtle statement piece that you can slip on year after year.
When it comes to this collection, no matter which style you choose you'll gain an easy-to-wear yet visually interesting piece that can be worn alone or matched up with other favorites. Continue on to see and shop the latest lineup of luxe pieces from Mejuri before everyone else.