This Is The Emerging Parisian Line Behind Instagram's Viral Bow Shoes
Jason Mercado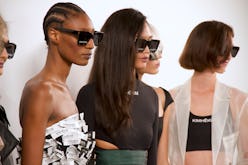 Paris Fashion Week often gets a reputation for being associated with fashion's biggest labels. It makes total sense: Dior, Chanel, Maison Margiela, and Givenchy all present on the official schedule season after season. So, too, do newer but no-less-buzzy fashion giants like Alexander McQueen and Stella McCartney. Yet, at the same time, there's also a handful of extremely talented emerging designers who have lately made Paris their home base, many of which are becoming just as exciting to watch as the big ones. Take, for example, emerging Parisian brand Kimhékim.
You may have seen the brand's completely over-the-top ballet flats with supersized bows on Instagram, where they've been endlessly re-grammed by fashion inspiration accounts. But in Paris earlier this week, the label just had its first runway show on the official Paris Fashion Week schedule.
"I really wanted to make this a buzzy show," explains the designer Kiminte Kimhekim, backstage before the show began. Located in a spacious garage in the 16th arrondissement in Paris, the venue had an edgy vibe and the excitement backstage was palpable. "In the past, we did presentations in Paris, and it was very casual. But for this to be the first official show, it's something we've been wanting to do for a long time."
The story of Kimhékim begins before his viral oversized shoes however. In fact, the young designer graduated from the private fashion school Studio Berçot in Paris just over 10 years ago. Almost immediately upon graduating, he began working with Balenciaga in the studio and atelier. For four seasons, he established himself as an expert in craftsmanship. He had been thinking all along about launching his own line, and by the time 2014 rolled around, he debuted a collection at Paris Fashion Week in the form of a presentation held inside a flower shop.
Fast forward to the garage venue in Paris for Kimhékim's Spring 2020 collection. For the occasion, the designer took elements from the very same aesthetic he started out with: feminine, sheer and statement-making, but added new twists such as logo-covered boots and coats. And like the ballet slippers that have garnered him such a following on Instagram, there were also quite a few pieces that play with volume. Think: the classic white button-down reimagined as a giant dress with long sleeves, or a massive camel coat with structure that rivaled couture, paired with an equally big pair of pants; the paper-bag waist extending up so far it laid just a mere five inches from the neckline of the white tee it was worn with.
"Nowadays, we are all seeking attention from the others, especially on social media," explains Kimhekim of the show's inspiration. To further exemplify this theme, models also walked down the runway wearing puffy chiffon gowns as they filmed themselves on selfie sticks. In a way, too, it was that sentiment of attention-seeking that also inspired the original oversized ballet flats. All these brands were doing oversized," he says. "I just wanted it to end. But you know, it's just too fun to play with the images and the elements."
While his supersized items might feel a little extreme, maybe, even a little unwearable, the label actually does produce them for people to wear, just on a custom basis. Customers who want to wear one of Kimhékim's oversized styles can place a made-to-order request on the label's website. "They really made a buzz on Instagram," he says, with a laugh. "These oversized items just make me so happy. The point is, if you can feel like it, you can buy it." On some of his more extreme pieces such as the bow flats, Kimhékim even has the slogan embroidered on the inside of the sole, "Buy it if you can".
Despite this, Kimhékim also had a range of options that felt a lot more everyday than say, a floor length button-down skirt. The designer introduced pretty and sheer organza mini dresses with ruffles, t-shirts and sporty bras and bodysuits, and shirting with ribbons of colors. His previous work has been sold at major retailers such as Moda Operandi, too. And, if you look closely, you might also see some references to the designer's cultural heritage. Some of the colorful organza pieces were directly influenced by the shapes, colors and silhouettes of traditional Korean costumes such as the 'Hanbok" (a traditional Korean dress for semi-formal or formal attire during traditional occasions such as festivals, celebrations, and ceremonies).
Post-first official runway show in Paris, the young designer is planning to put together an exhibition of his work in his native South Korea. As for what he wants people to take away from what his latest collection? It all goes back to his original inspiration. "Please pay me attention to me," he says with a laugh. "And have fun."