You Can Finally Buy These Popular K-Beauty Sheet Masks In The U.S. (& You'll Want To Immediately)
Courtesy of Soko Glam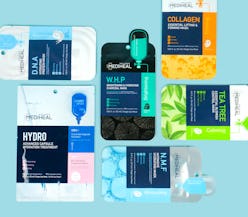 In the world of Korean skin care, a sheet mask is essential. It's integral to the famed 10-step routine, and skincare lovers are likely to have way too many on their top shelf at any given time. If you're one of those people, you might be thinking that you absolutely don't need another sheet mask right now. But this skincare line that just launched stateside could possibly make you reconsider. Mediheal, now available in the U.S. at Soko Glam (along with Walgreens, Amazon, and MedihealUS.com), is known worldwide for its affordable, effective sheet masks — and it's kicking off this entry by making 20 of its global best-selling products (yes, including a few masks) easily shoppable for many more of its customers.
Not familiar with Mediheal just yet? Considering five of its sheet masks sell every second, according to its website, it's one you should get acquainted with ASAP. "Mediheal has created over 1.6 billion sheet masks for global markets," Soko Glam co-founder Charlotte Cho tells The Zoe Report over email. "Everyone in Korea knows about Mediheal because they have the most innovative masks and technology."
Cho herself has long been a fan of the brand, and she expressed her excitement about the retailer partnering with it on her Instagram, explaining that the brand actually served as her gateway into sheet masks and K-beauty in 2009, and that she's been waiting to bring the products into Soko Glam's offerings ever since.
As for what the hype is all about, you can chalk it up to Mediheal's emphasis on quality and beneficial ingredients in addition to its formulas, many of which are free of things like parabens, silicone, and artificial colors. According to Cho, it's also the masks' effectiveness that makes them so popular. "Mediheal sheet masks make your skin supple and dewy," says Cho. "They are incredibly thin, so they feel almost like a second layer of skin for a fit that is both easy to use and innovative.
If you're not sure what to use first, start with the Hydro Advanced Capsule Hydration Treatment Sheet Mask — a unique product that uses a two-step process as opposed to the usual one-and-done process of masking. This one in particular contains a biocellulose sheet mask followed by a hydrating ceramide capsule serum. And while many sheet masks are made with cotton or non-woven fabric, the biocellulose material of Mediheal's is more flexible and breathable to encourage better absorption.
The way you use it is a little different, too. Cho explains that you should apply the biocellulose mask, then use the capsule to "coat the skin with skin barrier-protecting ceramides to lock in the moisture." The brand recommends you leave the sheet on for 40 minutes (instead of the usual 10 to 15) to better absorb all the ingredients the mask has to offer.
If you're looking for something a little different, the other five masks in the release are also heavy hitters. The N.M.F. Intensive Hydrating Sheet Mask features aspects of what the product description refers to as "Natural Moisturizing Factor," or N.M.F., which the brand explains is naturally found in the skin to retain hydration.
For an even, moisturized complexion, the W.H.P. Brightening & Hydrating Charcoal Sheet Mask has niacinamide and açai fruit extract, while the rich DNA Hydrating Protein Sheet Mask contains squalene and jojoba oil to help hydrate skin. If you have blemish-prone or mature skin, the Tea Tree Essential Blemish Control Sheet Mask is made to calm and prevent breakouts, and the Collagen Essential Lifting & Firming Sheet Mask is designed to firm skin and smooth skin.
But possibly the best part? You can get five of any mask of your choice (with the exception of the Hydro Advanced Capsule) for under $10 — just another reason why the brand is so successful. "They are well known globally for their quality and really affordable price points," says Cho. "Quality I can feel and see results from."
If you're officially convinced you need one (or all) of these in your life, keep scrolling to see six of Mediheal's sheet masks to add to your collection, and head to any of the new retailers carrying this brand to see more of its products.