Mauviel's Beautiful Copper Cookware Is Super On Sale At Nordstrom Right Now
Mauviel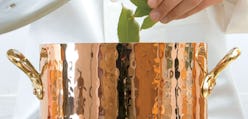 Having the proper pots and pans within an arms reach is the first step in being able to tackle recipes with ease — so if your New Year's resolution is to cook more, it's probably time to invest in some high-quality cookware to help you do so. Before you start seeing dollar signs (yes, those huge sets can get expensive), you'll be happy to learn that you can save big on some of the best cooking tools out there right now at Nordstrom. Currently, the retailer has luxe Mauviel pans on sale as well as cookware from top-notch brands like All-Clad and Le Creuset that'll turn your beginner's kitchen into a chef's dream.
For those shoppers not familiar with Mauviel, the premier French brand is known for its long history of creating high-quality cookware — most notably, its stunning copper designs. You won't be tucking away these professional-grade products; Mauviel's elegant cooking essentials are pieces you'll want to leave out of the cabinet and in the open for all to admire.
Since it typically carries a high sticker price, the opportunity to scoop up Mauviel on sale is one you shouldn't pass up. If you're working with limited cookware or need to overhaul a current set, take a look at the 10-Piece Copper & Stainless Steel Cookware Set, which is now marked down to $1,300 from $1,970. This comprehensive set's copper construction and stainless-steel interior will heat quickly and evenly allowing you to sauté, sear, and simmer to perfection.
Having a hard time perfecting your Sunday roast? Shop the M'heritage M'150s Copper Tri-Ply Roaster with Rack for 20 percent off in the sale. Once $340, this sophisticated copper style with stainless steel handles is now available for $270. This roaster will make the presentation of your dinner a total showstopper.
Within the sale you'll also be able to add a six-piece stainless steel kitchen tool set from All-Clad to you cart for under $100, as well as an eight-Quart Enameled Steel Stockpot from Le Creuset. And the deals don't end there; continue on to follow through on your New Year's resolution by shopping top cookware brands for less.