Mango's Massive Sale Has $56 Snakeskin Boots & They're Going To Go Fast
Mango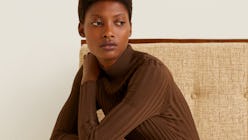 With Christmas around the corner, you might already be starting to feel the fatigue of holiday shopping. Between shopping every other holiday sale as well as just deciding on the perfect gifts for everyone in your life, giving yourself a well-earned break is only merited. But before you throw in the towel, make Mango's winter sale one of your last (virtual) stops to shop for all of the best pieces of the season that you'll wear well into 2019. If you've been teetering between a specific trend you've been eyeing for the past year, this is the time to do it.
As the end of the year calls for a period of reflection, it also allows for you to see the tried and true styles you (and everyone else) couldn't get enough of, as well as the ones you might want to see continue on in the next couple of seasons. Whether you've been holding off on these looks until now, or you plan to add a few more options to your wardrobe, you can shop your favorite trending pieces, along with everyday classics, for up to 50 percent off.
It goes without saying that animal prints have been the biggest trend of the year. From the ever-timeless leopard and tiger patterns to cool faux snakeskin and croc-print, these have become the new neutral that you can wear at any given time of the year. These Snake-Effect Ankle Boots, which are on sale 30 percent off at $55.99, will add an edge to anything you wear, whether it's a midi skirt for the office or a pair of relaxed jeans for the weekend.
If you're looking for a more subtle way to wear the animal print, this $41.99 Zebra Textured Sweater will be a go-to throughout the colder months. Another trend to shop is lime green, and this pretty Bow Satin Skirt is one you can wear year-round. Be sure to accessorize with these effortless Resin Earrings, $9.99, for a head-turning addition to all of your outfits.
This is also the perfect time to stock up on chic items you can wear for nearly any occasion, such as a timeless blazer, like this Striped Structured Blazer, available for $89.99. You can also get this Faux Shearling-Lined Coat, on sale for $137.99, which will no doubt be a staple in your winter wardrobe. Need a counterpart to your favorite black booties? These Lace-Up Leather Boots will be a nice alternative — and they'll easily become part of your regular outfit rotation.
No matter what you might be shopping for, Mango is sure to have it. Scroll down to shop more pieces from the brand's major sale.