Mango's Huge Labor Day Sale Just Started — Here's How To Get A Discount On All The Best Fall Pieces
Mango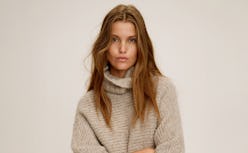 Given the fact that Labor Day is only a few days away, chances are you've already shifted gears into that three-day weekend mode. But before you turn off your email notifications and pack your bags for a quick getaway, there are tons of sales happening in honor of the holiday and the change of seasons. And with Mango's Labor Day sale, you have the chance to fill your closet with chic, classic pieces for up to 30 percent off.
It's no secret that major holidays lead to noteworthy sales, and now that Mango's has officially started, it's time to add fall staples like coats, knitwear, boots, and more into your collection. And from now until Sept. 2, when you spend between $50 and $100, you'll receive 20 percent off on your purchase. If your cart adds up to anything over $100, you'll get 30 percent off. To get in on these deals, all you have to do is use the code "LBR19" at the checkout.
Basically everything on Mango's site is up for grabs — including its newest arrivals, as long as the reference number (which is included under the name of each item) begins with "5." So, not only can you get yourself the pieces you've been eyeing all season, but you can also start building your fall wardrobe with this sale.
If you're hoping to add a few timeless pieces into the mix, start with the Pleated Midi Skirt, $79.99. Wear it to the office with a stylish sweater like the Turtleneck Sweater, which is also $79.99. Or, style it for Sunday brunch with a graphic T-shirt.
For those who can't get enough of the animal-print trend, sport these Zebra Print Pants, $99.99, with a classic button-down shirt or a black crewneck sweater for a cool outfit to wear for any occasion. Another trend that continues to be a mainstay in fashion is western-inspired pieces, and this $169.99 Ruffled Printed Dress feels essential for fall. Wear it with the Leather High-Leg Boots, $249.99 to complete the look.
Ready to start shopping? Scroll down to see more must-haves from Mango's Labor Day sale below.