This New Moisturizer Will Change What You Know About Luxury Skin Care
Courtesy of MALIN + GOETZ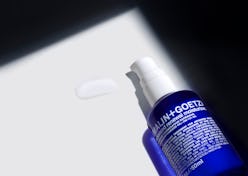 Layering on thick, creamy skincare products can feel luxurious... in the winter. Trying to dab on heavy products during the summer? Now that's a different story altogether. When it's hot outside, even the most skincare savvy can find themselves glossing over their regular supply of hydrating moisturizers in favor of anything lighter. Fortunately, MALIN + GOETZ just released a new product that'll make you rethink how a luxury moisturizer should feel on your skin — and changes up the age-old concept of a product's thickness correlating to how hydrating it is. Launched in April, the all-new MALIN + GOETZ Advanced Renewal Moisturizer is truly moisturizing — during a 4-week study the brand conducted, 96 percent of consumers were noted to show an immediate improvement in their skins' hydration.
However, the moisturizer's texture may be radically different than ones you're used to: it's light. And you only need to apply a dime-sized amount from the $76 bottle (which holds 1.7-ounces of product). Once it sinks into your skin, there won't be a trace of the Advanced Renewal Moisturizer left behind, either. No more waking up to leftover residue from your skincare routine the night before, or feeling like you're caking on product after product when you apply your makeup in the morning.
And like other skincare products from MALIN + GOETZ's line, the luxe moisturizer is multifunctional. While the formula's meadowfoam seed oil and linseed extract up your skin's moisture levels, other ingredients work in tandem to plump skin — which may diminish dry patches and face lines.
Finally, one last ingredient was thrown in to make sure all the hard work the Advanced Renewal Moisturizer put in wasn't erased the second you walk out the door. MALIN + GOETZ added an antioxidant-packed apple stem cell to the moisturizer's formula as a way to protect your skin against environmental damage. In the words of MALIN + GOETZ: it's the "perfect urban shield."
Grab your own bottle of MALIN + GOETZ's new Advanced Renewal Moisturizer on the brand's website, or by visiting select other retailers like Nordstrom and Barneys New York.