Maje Introduced Its Own Line Of Sunglasses & They're Just As Chic As You'd Expect
Maje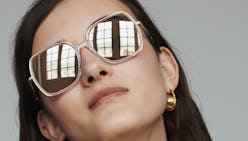 With sun-drenched days on the horizon, there's one accessory that outranks all the rest when it comes to being a must-have for summer: sunglasses. And while you may have your go-to styles from past seasons scattered in various straw bags, you'll easily be convinced to bring a new pair into your lineup after you lay your eyes on Maje's new sunglasses collection. Not only will the brand's stylish shades shield your eyes from harmful rays, but they'll do it in that effortless, French cool-girl way that Maje is known and loved for.
Launched on May 7, this collection is Maje's first foray into eyewear, and it feels like a natural next step for the brand that already offers a range of accessories to pair with its clothing. "We expanded our accessory range at a time when apparel became very well established," Maje founder and designer, Judith Milgrom, tells The Zoe Report over email. "I wanted to offer a full wardrobe, a complete look where shoes, bags, and jewelry resonate within the ready-to-wear."
And if you're wondering why sunglasses were the last major accessory category to be offered from Maje, it's only because the brand wanted to deliver the best to its customers. To do that, it turned to eyewear company Mondottica to help bring the designs to life. "Everything was developed in-house, but for sunglasses, it was important to find the right partner that could bring its expertise and experience in a product category that has its own specificities," says Milgrom. "Working with Mondottica allowed us to combine our creativity with their production skills."
This partnership resulted in a collection of serious stunners that range from $205 to $285. As for the sunglasses styles? "The '70s have influenced the style, the palette of colors, and the big shapes," says Milgrom. "I love this decade that was so rich when we think about fashion, a clever and sensual mix of freedom and glamour that fit with the spirit of our brand."
Featuring soft hues of ivory, gold, and shades of pink, the collection covers a range of shapes, making it easy to shop a pair that suits your optical aesthetic. In the mix, you'll see everything from Maje's modern take on an oversized cat-eye to a vintage aviator-inspired silhouette that's been given a fresh update with a sleek metal brow bar and Maje's signature "M."
However, these styles are just the beginning when it comes to this collection. Continue on to scoop up your new pair of sunnies to complete your summer look and head over to the site to view the rest of the offerings.