All The Spring Essentials You Need From Maje's Huge Sale (Including This Sleek Leather Jacket)
Maje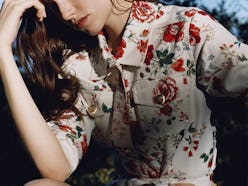 The desire to achieve French-girl style requires no explanation. After all, the apt sentiment of je ne sais quoi explains enough in itself: What makes it so utterly chic and effortlessly cool is, to put it simply, indescribable. While it's been said that this stylishly "undone" aesthetic is actually quite hard to execute, Maje's Friends & Family Sale is here to give you a head start on the process.
The Friends & Family Sale has every spring piece you could be looking for, including joggers, graphic tees, romantic dresses, and structured suits (not to mention everyday basics and accessories), and it's all available for 25 percent off. Whether you're hoping to add a handful of new floral staples to your spring wardrobe or want to invest in a new leather jacket, everything you could need for the season is included in this sale — all, of course, with that indescribable French touch.
Although spring has officially been in season for a few weeks, there's a good chance you're still dealing with unpredictable temperatures head-on. In that case, consider adding a stylish jacket to simply throw on over your outfits, such as this Cropped Leather Jacket, which is on sale for $423.75. Or, if you want to wear something that feels undeniably pretty and perfect for spring, opt for the Windbreaker with Floral Print, available for $333.75.
Take on florals the French-girl way when you wear the $281.25 Dress with Mixed Daisy Print, which, with the collared neckline and ruffle along the top and sleeves, has a subtle western silhouette. If you're the type of person who prefers to wear something more eye-catching, this Organza Dress with Flowers is bound to turn heads and costs $333.75. Wear these dresses on their own, or style the Double-Breasted Checked Blazer over them for a cool juxtaposition of structured minimalism and whimsical romance.
Of course, you can't forget the sportier pieces for your more casual days. Stock up on graphic tees like the Tee-Shirt with Slogan and Print, $82.50, that'll look as good styled with a pair of jeans as they would with the Wide Leg Plaid Pants, which are on sale for $198.75. And for when you want to look chic while you're out running errands, you can't go wrong with the Jogging Pants with Elastic Waist, $198.75.
Ahead, these pieces and more from Maje's Friends & Family Sale to stock up on while spring is still in bloom (and before these deals come to an end).