MaisonCléo's Net-A-Porter Collection Puts Sustainable Fashion Center Stage (& It's Selling Out *Fast*)
Lauren Leekley/Courtesy of MaisonCléo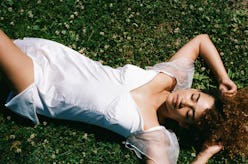 For Marie Dewet, launching the MaisonCléo Net-a-Porter collection felt personal. "It's the first website where I spent time at when I was at the end of my teen [years] (17/18 years old), the first website where I created wish lists on, where I dreamed about designers' pieces, and also where I bought my first designer purchase with my own money," Dewet — one half of the mother-daughter duo behind the Insta-famous French clothing brand MaisonCléo — tells The Zoe Report over email. (That first designer buy? Isabel Marant boots, "who was made in France at this time.")
Although the collection's release on June 26 was nestled into Net-a-Porter's impressively large "What's New?" category, MaisonCléo's loyal fans still found it — fast. MaisonCléo's cult-favorite Agnès blouse ran out first, with sizes from the collection's other five pieces following suit and swiftly dwindling in stock. Crafted from silks and primarily drawing on a pale summer palette (with a splash of on-trend fuchsia cutting through), the collection showcases the strengths of the brand: it's sustainable, small, and made by hand.
"NAP contacted me one year ago (they found me on Instagram as everyone finds us) and I couldn't believe it because we were just me and my mother and made our pieces in our own home (as we still do)," Dewet explains. MaisonCléo's size also initially limited the collaboration: "We couldn't make it because they asked for too much pieces for us and I didn't know how we would do that."
But when Net-a-Porter came knocking again in early 2019, Dewet found herself unable to say no twice. "I had the time to think about that and we decided to ask for the help of two seamstresses we met in our hometown and asked them to help my mother to make these pieces for Net-a-Porter between our weekly orders," she says. "And we made it."
MaisonCléo followers will recognize silhouettes from the collection, too — and undoubtedly welcome them with open arms (and open wallets). For the Net-a-Porter collection, the brand constructed its dramatic Delia blouse out of buttery silk organza, elongated its sheer Emilie blouse into the breezy silk Emilia jacket, and released a few new designs, like the $335 Christine mini dress.
It's impossible to ignore the impact introducing sustainably sourced micro brands to Net-a-Porter's customer base may have, as well. "They also launched Net Sustain last week with a special selection and tab now to find local and sustainable brands," Dewet says. "This is so amazing that a platform like NAP begins to do that, the fashion industry will change for sure! Or at least it begins and it feels so good."
Ahead, the four pieces from MaisonCléo's Net-a-Porter collection currently left in stock.