How To Layer Your Denim For Fall, According To Madewell's Latest Collection
Courtesy of Madewell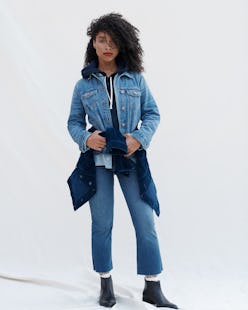 With summer officially on its way out, the only thing left to do is look ahead to fall. And thankfully, there are plenty of new collections that will easily get you excited for the cooler temperatures. Of course, while there are always seasonal pieces like knitwear, boots, coats, and more to get excited about, among all of those is one constant: denim. And now that Madewell's fall 2019 denim collection has arrived, you can refresh your closet with a variety effortlessly cool pieces.
Creating the essential transitional weather ensemble can be, well, a challenge. Not only do you have to create ensembles that aren't too hot or too cold — a task that's especially tough when dealing with an Indian summer — but you also have to find the happy medium between each season's trends. Luckily, Madewell's latest collection is chock-full of pieces that'll have you feeling just right.
"Our goal for the fall denim collection was to make sure our customers find the perfect pair of jeans going into fall," Mary Pierson, head of denim design at Madewell, tells The Zoe Report in an email. "We have an almost endless range of leg shapes and washes to make sure that no matter what style or shape you're looking for it we have it available. Shopping for denim is a personal experience, we know that the perfect jean is going to be specific to each person."
And with so many perfect pieces to choose from, you can be sure there are some serious layering opportunities within the collection. Whether you're simply throwing on a lightweight denim jacket over a classic T-shirt and jeans outfit or sporting it under a structured blazer, the right denim pieces can be the heroes of your outfits. And once the weather begins to truly reflect the fall season, these chic denim pieces will go seamlessly with your knitwear.
When in doubt, you can never go wrong with a pair of jeans. Opt for the $198 Rivet & Thread High-Rise Wide-Leg Jeans as an unexpected alternative to your classic skinnies. Or if you want something slightly more fitted, the Classic Straight Jeans cost $148 and will be your go-to option for nearly any outfit. Just in case you need a sleek skirt, the Rigid Denim Cutout Maxi Skirt is available for $89.50 and will look great with classic knee-high boots.
If you want to wear something that won't take a second thought, style the $148 Skinny Overalls with a fitted tank top or a lightweight sweater. And for those cooler days, the Denim Slim Coverall Jumpsuit is just what you need. Available for $168, you can wear it with the hems cuffed and styled with sleek sneakers or clogs.
Ready to start shopping? Scroll down to see more pieces from Madewell's fall 2019 denim collection below.