Madewell's Year-End Sale Actually Includes Jeans, So You Should Probably Start Shopping Now
Madewell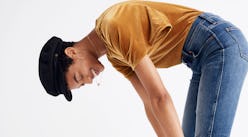 Every January, the new year kicks off with the same ringing sentiment: New Year, new you. While a complete reinvention may seem like an overwhelming thought — it's only the beginning of January, after all — your closet is always a good place to start. Like any other part of a makeover, nothing will get you ready to reset for the year like swapping out your worn, lived-in pieces for something fresh and new. Luckily for you, Madewell is having its End-of-Season Sale, giving you the easy everyday essentials you'll wear all the way to 2020 (and beyond).
If you thought Madewell's sale section was already good to begin with, it's only gotten better with this sale. When you use the discount code "GOBIG", you'll receive an additional 40 percent off of the current price of any of the items that have been marked down. Considering the cost-per-wear on these chic wardrobe basics, this sale is only going to bring you an epic level of savings, which means you have no reason not to add them to your cart.
When it comes to a brand like Madewell, there are some things you just can't pass up. Namely, its signature denim collection. Embrace the rise of loose-fitting jeans and opt for the Hi-Rise Slim Boyjean: Eco Edition, which has been sustainably made and is marked down to $79.50 (plus an extra 40 percent off when you use the code). Or, if you're one who firmly believes in the skinny jean leg, these 9" Hi-Rise Skinny Jeans come in a wash that will go well with anything you wear — literally. This Rigid Denim Mini Skirt, on the other hand, will be the perfect staple to wear with a pair of semi-sheer tights while the weather is still frigid, and is on sale for $34.99. Once the temperatures start to rise, you'll never want to take it off.
Of course, the effortless clothing brand also has some non-denim pieces that will give your wardrobe the 2019 update you're looking for, like this cool and versatile Surplus Jacket, marked down to $98, or a pretty Silk Button-Down Cami, which can be worn layered a long-sleeve top for those winter evenings out. Finish off your ensemble with these Etta Pumps and you have your new go-to look that'll take you from day-to-night in mere seconds.
Ready to revamp your wardrobe? Keep scrolling down to see the stylish pieces that'll have you starting 2019 on a high note.