You Can Shop Macy's Black Friday Deals A Lot Sooner Than You Think
Courtesy of Macy's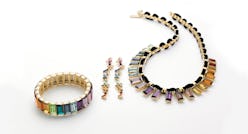 Technically speaking, Black Friday — along with the rest of the holiday shopping season — officially starts the day after Thanksgiving, which is Nov. 28 this year. However, if you were to map out a schedule of each major brand or retailer's kick-off to the holiday season in your calendar, including when Macy's 2019 Black Friday sale starts, then you'd quickly see that these sales are giving you more and more time to shop for your loved ones (as well as yourself) each year. If you've ever experienced the hectic madness that is shopping on Black Friday, then you already know one day can make all the difference in getting the items you need for the holiday season. Macy's knows this, which is why you'll be able to shop for the retailer's Black Friday Doorbusters beginning Nov. 27 — just one day before Thanksgiving.
Of course, for those of you who like to take some time to plan and strategize your budget, there are a few key items to look out for in this year's sale. Stock up on chic fall staples such as warm cashmere sweaters, like the Turtleneck Sweater or the V-Neck Sweater, which are both from Charter Club and will each cost $39.99 during the Black Friday Sale. And if you've been hoping to get a new winter coat before the weather gets unbearably cold, select designer styles will be available for 60 percent off.
Speaking of designer pieces, Macy's will also be offering 50 percent off on select clothing labels and handbags. If there's a key style you've been eyeing for the past season or two, this sale — which will run through Nov. 30 — will be the perfect time to shop. And just in case you need a few more dresses to add to your wardrobe, you'll be able to get certain styles with a 30 percent discount.
Of course, the sale doesn't stop there. Macy's fashion jewelry will be on sale for 60 percent off, which means you can build up your collection of baubles with the latest trends on the market. Or, if you prefer more timeless options, this Cultured Freshwater Pearl Necklace and Stud Earrings Set will be available for $39.99.
Scroll down to see more pieces to consider before you shop Macy's Black Friday Sale this year.