MAC Cosmetics' Cult-Favorite Setting Spray Got A Fun New Update & You're Going To Be Obsessed
Courtesy of Mac Cosmetics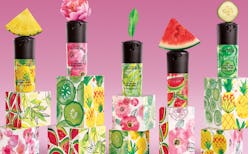 If there's one thing newcomers should know about the cult-favorite MAC Cosmetics Prep + Prime Fix+, it's that there are so many different ways to use it. Part hydrating mist, part setting spray, devotees claim it's the secret to blending foundation into skin and creating glossy highlights. And now you have yet another reason to add it to your shopping cart: Starting June 17, MAC's game-changing spray will be available in five new fragrances. And yes, they're limited edition — so you should move fast if one of the scents catches your eye.
Currently available on MacCosmetics.com, the new Fix+ sprays will also land in-store at select MAC locations June 20. Each mini bottle retails for $16 apiece — making the limited-edition fragrances only $2 more than the original travel-sized Prep + Prime Fix+ spray.
But deciding on which of the five new scents to buy will be the hardest part. (Though there's no shame in collecting them all for your MAC beauty stash, either.) For those in the mood to celebrate summer, there's the Fix+ Mini Watermelon and Fix+ Mini Pineapple — both of which feature illustrations of the fruits on their bottles. If you prefer something more soothing, pick up Fix+ Mini White Tea or Fix+ Mini Peony; the packaging is covered in watercolor-like botanical drawings.
Finally, if you just can't pick, go with the Prep + Prime Fix+ Cucumber. It's seasonal yet still spa-like, and shows off the moisturizing cucumber used in the spray's formula. However, you'll need to visit Ulta if cucumber sounds like the scent for you — the beauty retailer will be the exclusive place to buy the specific fragrance. Although the sprays have yet to land on the store's website, it's worth keeping your eye on; Ulta will stock both mini and full-size versions of the cucumber-scented spray, for $16 and $28 respectively.
Ready to see what MAC Cosmetics' famous Prep + Prime Fix+ spray can do for your beauty routine? Continue scrolling down; all of the new and upcoming fragrances are below.