MAC Cosmetics Launched A New Mascara To Give You Curl That Lasts All Day
Nordstrom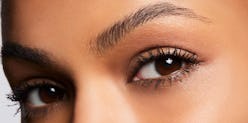 Beauty companies can't just release another run-of-the-mill mascara and call it a day. Whether you realize it or not, you — and basically all other modern makeup shoppers — have high hopes for lash products: You expect your mascara to lift, volumize, lengthen, and darken lashes — and that's just talking about a drugstore formula. When a product like MAC Cosmetics' Extended Play Perm Me Up Lash hits the market, expectations are basically sky high. (As they should be, since MAC's been a staple in the beauty community since the '80s.)
So, is MAC's new Perm Me Up Lash worth the $24 price tag? It looks like the answer is yes. An official announcement for the mascara only dropped on MAC's Instagram April 1, but that hasn't stopped the initial reviews from trickling in on MAC's website; and almost every review notes that the mascara's formula really does go on clump-free, one of the many listed benefits of the Perm Me Up Lash. The perks don't stop there, though: MAC also claims the mascara will give you a lash curl that'll last up to 16 hours — and once you want to take off the mascara, you only need to use warm water. Which sounds like magic, honestly.
And the glamorous, instant curl is a big component of this mascara. MAC fans will have already spotted the fact that the new product shares a name with MAC's Extended Play Gigablack Lash Mascara, a highly-rated formula that's also smudge-free, washable, and boasts a 16-hour wear time. Wondering what the difference is between MAC's new mascara and the older one? When one eagle-eyed shopper asked MAC on Instagram, the brand replied, "this formula instantly lifts and maintains a curl for a whopping 16 hours! Besides length, you'll also get gorgeous volume."
It sounds like if your lashes are in need of a little lift, Perm Me Up Lash is the MAC mascara for you. MAC also notes in the product description that the mascara is "impossibly lightweight", which may tempt you if you've tried other curling mascaras; the promise of a lighter formula is appealing, since formulas that freeze your lashes into a lifted shape can often feel thick and cakey on your eyes.
Grab the new Perm Me Up Lash mascara on MAC's website, at Nordstrom, or just by clicking the link below.