This New MAC Cosmetics Highlighter Is Already Selling Out — Here's Where To Find It
IMAXTREE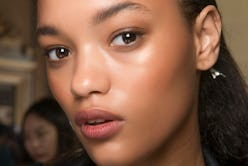 As far as the limited-edition MAC Cosmetics Lunar Illusions collection is concerned, the beauty industry is off to a very, very pretty new year. Available as of Dec. 30 on the brand's website, the 11-piece collection — which includes a mix of top-selling eyeshadow, lipstick, and more — celebrates the Lunar New Year (which falls on Jan. 25 in 2020, by the way). And while the shades may not be completely new, the packaging is; each product in the Lunar Illusions collection celebrates the holiday and festival through its design, whether that be on its components or embossed into the pigment itself.
Prices range from $19 for the Lunar Illusions Lipglass (available in "Heroine", "Goldfinch", "Magically Delightful", and "Ruby Woo") to $37 for the Lunar Illusions Extra Dimension Skinfinish in "Double Gleam" — currently marked as sold out on MAC's website, but still in stock online at Ulta. Beauty fans won't be surprised that the pretty highlighter was the first to fly off MAC's digital shelves, too; the best-selling champagne shade itself is decorated with a detailed dragon and housed in a pink compact finished with the collection's "prismatic" look.
Besides scoring reimagined products, fans will be happy for the chance to pick up limited-edition combinations of shades, such as the the Powder Blush Split Pan in "Dynastic Fantastic." Retailing at $31, the blush duo includes the shades "Pinch O' Peach" (a flushed pink) and "Modern Mandarin" (a unique red-orange hue).
Or, you could grab the collection's eyeshadow palette. Described in the product description as a mix of "classic MAC colors," the Eyeshadow x 9: Now And Zen includes an everyday combination of nine neutrals, warm pinks, and smoky-eye shades for $33. Multiple MAC eyeshadow textures are included in the palette, as well: Lustre (an intense sparkle), Veluxe Pearl (a shimmery metallic), and Matte. Even better, the palette's packaging is totally unique to the collection, featuring an intricate floral design flanked by the beauty brand's logos.
And remember: This collection is only available for a limited time, according to MAC's website — and if the highlighter is any indication, it very well may sell out before the Lunar New Year even arrives. Below, the new MAC Cosmetics Lunar Illusions collection, available from the beauty brand and online at Ulta.