lululemon Launched Its First-Ever Lifestyle Swim Collection & It's As Chic As It Is Sporty
lululemon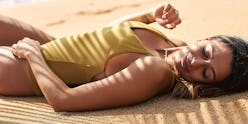 While its activewear is incredible, lululemon has become so much more than just the place to buy leggings. And, if you're not up-to-speed with all the brand has been releasing this year — like lululemon's Summer 2019 swimwear collection — it's time to catch up. Although lululemon has offered swimwear in the past, this new launch is about to make fans so happy, and for multiple reasons. First of all — it's chic, sporty swimwear that won't completely break the bank. Second of all, this swim collection shows lululemon has become a lifestyle brand to be reckoned with.
Released this May, the new collection is another step from the brand towards expanding its swim clothing line, which features styles for any kind of water-based activity — whether you're a surfer, or more prone to lounging on the sand. Prices for the collection are typical for lululemon; the collection's one-piece swimsuit — titled the Poolside Pause One-Piece — retails for $118, while the mix-and-match bikini tops and bottoms go for $68 apiece. Sizes 2 through 12 are available, and lululemon details both bust and bum coverage levels under the "Features" tab online. (For example: The collection's one-piece is intended for A or B cup sizes, while the Clear Waters Bikini Top can cover a C or D cup size.)
The Summer 2019 collection also introduces a never-before-seen lululemon material: the Ribbed Swim Fabric. Fashionably textured on the outside and smooth on the inside (where it touches your skin), the fabric is both on trend and extremely durable; lululemon notes online that the Ribbed Swim Fabric offers UV protection, resists chlorine and salt damage, and will dry quickly — retaining its original shape and stretch — once you get out of the water.
The solid colorways lululemon selected for the collection let the ribbed fabric take focus, as well. A muted mustard and burnt orange (called "Vintage Gold" and "Cayenne") are the most eye-catching shades from the collection, and available for a majority of pieces. The Clear Waters Bikini Top and Clear Waters High-Waist bottoms are available in only black, white, and the pretty bluish-gray "Chambray" shade.
You can browse lululemon's new swim collection on the brand's website. Ahead, a few of the new pieces to consider adding to your shopping cart.