Lululemon Just Launched A New Line — & It Has Nothing To Do With Workout Clothes
Courtesy of lululemon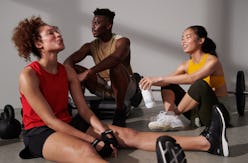 Next time you wander over to Sephora's website, you may spot one of your favorite activewear brands on its virtual shelves. After 2 years of research and development, lululemon's Selfcare line dropped on June 18, ushering in five new body and skincare products that'll make your post-workout cool down a little more glamorous. "Over the years, we've heard the feedback that transitioning from sweat to life isn't always easy. lululemon has always been in the work of creating solutions for sweaty problems and our Selfcare line is an extension of that approach," reads a quote by lululemon's Chief Product Officer, Sun Choe, in a press email. "Like our apparel, lululemon Selfcare has been designed with function at its core and created to support guests pre and post workout."
Available on Sephora's website, lululemon.com, and at select studios and lululemon stores, the beauty line ranges in price from $12 to $48. It includes gym necessities (like the aloe and lotus-scented Anti-Stink Deodorant) as well as innovations inspired by lululemon's expertise — such as the Sweat Reset Face Moisturizer, a lightweight, soothing gel that promises to calm your skin down post sweat session. And, besides the already travel-friendly Basic Balm, each new product comes in two sizes: A larger version to keep on your vanity at home, and a smaller on-the-go size that'll live in your gym bag.
As you may've guessed, formulating the sweat-friendly products required plenty of testing — however, this was done by working with athletes, not animals. lululemon notes online that more than 100 ambassadors from the brand helped shape and test out the new cruelty-free formulas, making sure they held up just as well during a training session as they did during a yoga class. Besides being Leaping Bunny certified, the products also landed a spot on Sephora's Clean Beauty page, which means they're made without ingredients like sulfates and parabens.
Additionally, lululemon's beauty products come with a few unique, gym-ready features. According to its website, the line includes completely original fragrances (which makes sense, if you're going up against sweat) as well as leakproof seals and locking tops. So, no more reaching into your duffel bag and discovering your favorite moisturizer spilled everywhere as you were maneuvering it into your gym locker.
If you're ready to make as much room for lululemon in your beauty routine as you have in your closet, keep on scrolling. All five new products from lululemon's Selfcare line are ahead.