This Controversial '00s Denim Trend Is Back, Whether You're Ready For It Or Not
Marc Jacobs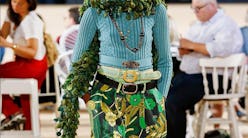 We often think of trends as markers of chronological eras. Go-Go boots hail from the '60s; bell-bottoms dominated the '70s; shoulder pads were the silhouette du jour of the '80s. And while this approach of labeling and cataloging fashion moments might help color the decade's zeitgeist, if the last several years have proved anything, it's that these trends don't tend to stay in the history books anymore. This year, low-rise pants are the 2020 trend to keep an eye on.
"This trend is not for the faint of heart," stylist Rebecca Dennett tells TZR about the style, which was last popularized during the early aughts. "I personally feel intimidated by the low-slung trend ... but, there are ways to tackle this formidable look." Today, images of Lindsay Lohan and Paris Hilton in jeans with half-inch-long zippers and bare hip bones often come up in reference to the look. However, low-rise hasn't always been packaged in a way that feels so dangerously close to a wardrobe malfunction; think of the best style of 1990s. Icons like Gwyneth Paltrow, Naomi Campbell, and Kate Moss were experimenting with low-rise slip skirts from Calvin Klein and relaxed, low-slung Levi's — styles that felt relaxed and also didn't require double stick tape.
All this to say, the return of the low-rise trend shouldn't scare you. It doesn't mean your beloved mid and high-rise jeans will be rendered unwearable, and it certainly doesn't mean you have to revert to an aesthetic from 20 years ago. Instead, reimagine how this silhouette can adapt to your existing wardrobe. "l love the idea of a low slung jean with an oversized button-down," Dennett continues. Below, find inspiration from Spring/Summer 2020 runways that included the look, as well as street style from your favorite celebs and influencers endorsing the trend right now.
The Low Rise Trend: On The Runway
While wearing this R13 runway look from head-to-toe might not make sense for your everyday sense of style, an interesting tip to glean from the outfit is pairing low-rise shorts or trousers with a button-down shirt leaving the bottom undone.
The Low Rise Trend: On The Runway
A Marc Jacobs stamp of approval is a fashion world green light, which is why this layered low-rise pants look is all the excuse you need to try out the trend.
The Low Rise Trend: On The Runway
New York-based Collina Strada is a label to watch right now, which is why designer Hillary Taymour's low-rise silhouettes are particularly noteworthy. As illustrated above, they make for a great pair of statement pants.
The Low Rise Trend: On The Runway
Cargo pants can sometimes feel overly stiff, which is why Sandy Liang's low-slung version provides the perfect balance of old school and modern.
The Low Rise Trend: On Celebrities
Bella Hadid (as well as her troupe of stylish friends) have been experimenting with low-slung trousers and jeans for the last several seasons. The resultant look is usually something athleisure-inspired, which feels easy to translate to your own wardrobe.
The Low Rise Trend: On Influencers
Sure, revealing what's underneath your pants may not sound like a trend you're quite ready for, but it sure does look cool and proves the point that low-rise pants can make just as much sense in 2020 as they did in 2001. For a more wearable look, add a belt and blazer to hide your undergarments.
The Low Rise Trend: On Influencers
If you fall into the category of people who are still hesitant to embrace the low-rise trend, ease into things with a pair of staple blue jeans that cut slightly lower than the belly-button-skimming styles of late.
The Low Rise Trend: On Influencers
Opt for an Aaliyah-inspired look with low-slung cargo pants teamed with a sporty crop top and sneakers. It's an easy and comfortable off-duty ensemble.