Insta-Famous Accessories Brand Loeffler Randall Just Launched A New Collection No One Saw Coming
Loeffler Randall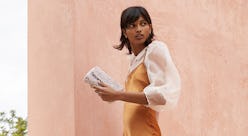 For some, introducing a never-before-seen line to a storied, established brand may feel leap of faith. Yet Loeffler Randall's new jewelry collection is less of a jump — and more like the next logical step for a brand perennially known for its cutting-edge (and celebrity-favorite) shoes, bags, and accessories. "We create a lookbook each season and we're always styling a full look with our shoes and bags. We had the idea to expand to other categories mostly to come up with the pieces we want to wear with our shoes," Loeffler Randall's Founder, Jessie Randall, tells The Zoe Report over email. "I've recently gotten so excited about wearing jewelry, especially gold hoops, so we decided to make some pieces. It's been such a fun and creative process that has really informed the rest of our designs."
Unsurprisingly, Loeffler Randall's new jewelry collection (which landed online Aug. 2) pairs perfectly with the brand's signature soft-glam aesthetic — often reflected through metallic mules and sparkling beaded bags. In a world of wide, sweeping releases, the eight-piece collection feels welcomingly focused. "I liked the idea of starting small because I'm thinking about fewer, more special things lately. We only wanted to have the exact things we were feeling for in the moment — for example these mini hoops I'd been dreaming about forever and couldn't find," Randall explains. "I like to start small and then create new pieces always with a tight assortment of the best pieces."
The breakout star of this first collection may be Loeffler Randall's Tallulah earrings though, a cascading pearl design that begins with a cheeky, heart-shaped accent. The $195 piece — which is available in traditional white or blush — is perfect for the statement earring-curious shopper; although it's undoubtedly eye catching, the repetition of monochromatic pearls reiterates a classic feel over and over.
"I tend to love really simple and subtle things for every day but we wanted one truly 'wow' piece for the collection and that's how Tallulah came about," Randall notes. "It's sort of assorted the way we dress — items that feel special and unique for every day and then one or two wow pieces to dress up a more casual outfit or for events."
Loeffler Randall fans will recognize repeated motifs in the new collection, as well. The $150 heart-shaped Billie hoops echo the brand's masterful pleated lamé (seen in the the gold Penny sandals and knotted Teddie headband). It also shows a certain thoughtfulness on the brand's behalf; these are pieces you can wear when you don't feel like stepping out in sparkling heels, or any heels at all, and still imbue your outfit with Loeffler Randall's polished, feminine vibe.
And it seems like more is to come, too. "We already have new pieces in the works for upcoming seasons and are excited to continue growing our jewelry line this year," Randall says. To shop this first drop, visit LoefflerRandall.com, or continue scrolling to browse a select few pieces.