Lime Crime's New Nude Lipsticks Get Their Hydrating Finish From A Surprising Ingredient
Lime Crime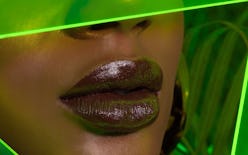 When you think of Lime Crime's famous liquid lipsticks, you probably think of color. Lavender, green, a true matte black — Lime Crime has done it all. And while the brand has released its share of subtle, nude-like shades, Lime Crime's Lip Blaze collection kicks it up a notch. With 12 different nude shades to choose from, the brand-new Lip Blaze lipstick features a glossy, opaque formula that just so happens to have a dose of cannabis sativa seed oil.
Before you ask: Cannabis sativa seed oil is different than CBD oil. Allure gives the full rundown on its website, but basically it boils down to the fact that cannabis sativa seed oil doesn't contain CBD or THC. (The oil is derived from the cannabis seed, not the plant itself.) So, while you will benefit from the hemp plant's skin-hydrating nature, you aren't at risk of getting high after you swipe on a coat of Lip Blaze.
That doesn't stop Lime Crime from using its finest puns, though; the brand notes in the product description that Lip Blaze's formula is very "high-drating." Oh, and there's the fact that the Lip Blaze collection itself launched on Lime Crime's website on April 20.
And while including any type of cannabis product is a buzzy skincare trend right now, Lip Blaze has plenty of other aspects to celebrate. Like the fact that its shade range delivers. It's diverse, mixing skin-matching lipstick shades like "Cash" and "Moss" with ever-so-slightly-colorful hues — like the pinky shade "Jade" or warm "Clover". If you want to compare shades and see how they look on three different skin tones, just check out any of the product pages — swatches of Lime Crime's Lip Blaze are included on each one.
Like most Lime Crime lipsticks, one tube of Lip Blaze will cost you $20. However, unlike Lime Crime's popular Velvetines liquid lipsticks, Lip Blaze leaves behind a shiny, buttery finish. Something that'll perfectly balance all the colorful, matte Lime Crime lipsticks you may already own.
You can visit Lime Crime's website to browse the Lip Blaze collection and find out which nude lipstick works best for you. Or, continue scrolling down; a few of the Lip Blaze shades are ahead.
Readers should note that the regulations and data surrounding CBD are still developing. As such, the information contained in this post should not be construed as medical or legal advice. Always consult with your doctor before trying any substance or supplement.