Lime Crime's New Lip Primer Will Make Applying Liquid Lipstick So Easy
Courtesy of Lime Crime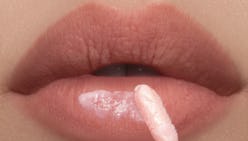 It doesn't matter which brand made your liquid lipstick: If you're going to be wearing it for an extended amount of time, cracking, fading, and flaking can happen — whether you painstakingly lined with a lip pencil or not. It's a reality most liquid lipstick fans have come to expect (and why you can always count on them to have their chosen shade in their purse, just in case any touch-ups are needed). However, you may soon be able to leave your lipsticks at home. Lime Crime's new Ghost Veil Lip Primer is arriving June 17, and the brand's liquid lipstick experts claim it's your one-way ticket to smooth, locked-in, flake-free lips.
And at just $16 per tube, it's definitely worth a shot. The Ghost Veil Lip Primer will work with any compatible shade, regardless of if it's a cream lipstick, a sparkly gloss, a sleek matte, or something sheer. Minimalist makeup fans may be happy with the color Ghost Veil has all on its own, too: The primer will add a barely-there translucent pink tint to lips. One could even call the Ghost Veil shade a veil of color. (Sorry, just had to get at least one pun out of the way.)
You don't have to do anything complicated to make Ghost Veil work for you, either. The primer is packaged like any other liquid formula; just apply a layer of it onto your lips before you grab your favorite going-out shade. With Ghost Veil in place, sheer boundaries for your lipstick will keep the color from feathering once it's on your mouth. (Something that's especially appealing if you have a stash of creamy bullet lipsticks.) The primer also acts as a way to attach the color to your mouth — so it's less likely to flake or fade once your night gets going.
Lime Crime made sure that its newest addition had a signature scent, as well. Unlike other sweeter scents the brand has used in the past, Ghost Veil Lip Primer's fragrance is more floral, with a mixture of violet and rose mingling together.
Make sure you check back to Lime Crime's website June 17 to grab your own tube of the Ghost Veil Lip Primer. Ahead, a link you can bookmark now.