Lily Aldridge's Controversial Styling Trick Is Actually Perfect For Combatting The Cold
ANGELA WEISS/AFP/Getty Images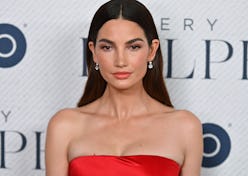 A trend that couldn't be missed over fashion month, the tucked-in-trouser has been seen on some of the most stylish women in fashion, since. And no matter how you personally feel about this (somewhat) controversial styling trick, there's no denying that Lily Aldridge's latest look is a great way to combat inclement weather, yet still be super chic. That said, dressing for winter and its ice-cold temperatures can be hard, but the model's recent look can help dismantle all your wardrobing fears when facing facing snowy or windy days.
While attending a Thakoon event in New York City, the super-model was seen on the street sporting an equestrian-inspired outfit that included the trouser-in-boot look the fashion-set has been embracing this season. And while, typically, a long trouser like Aldridge's could be problematic in the winter — from the hems being stained to the cool air finding its way to your ankles. However, this styling trick provides for an unconventional way to wear your favorite floor-grazing bottoms in the coldest months of the year. The key to successfully pulling off this look? Take notes from Aldridge and pair yours with a slim-fit henley or turtleneck top, keeping the color story subtle.
Another benefit of taking this styling trend head on is the fact that it'll allow you to show off all those new knee-high boots you brought into your lineup this season. Instead of hiding them under your pant legs, give your boots some more time to shine this winter by tucking your loose trousers into the boot shaft. And while Aldridge opted for a heeled boot to pair up with her pant, you can also tuck your trouser into a tall, chunky combat boot à la Chloé Harrouche. Or, you can take a page out of Linda Tol's book and match the color of your pant to your boot for an ultra-sleek look.
No matter which combination you choose, this is a trend that's worth trying for winter, but ahead are a few options to help get you started.