Everyone's Favorite Le Labo Perfume Is On Sale At The Line For Cyber Monday
The Line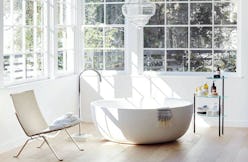 Perfurmer Fabrice Penot told The New York Times Style Magazine in 2015 that the cult success of Le Labo's Santal 33 only happens once in a lifetime. Fans of the scent may feel the same way about finding a Le Labo sale — discounts on Le Labo are rare, and usually can only be discovered by scouring stores that stock the brand. But thanks to the power that is Cyber Monday, Santal 33 and other chic scents are on sale at The Line.
The unisex perfume, which typically retails at $270 for a 3.4 ounce bottle, is definitely within the realm of luxury perfume pricing. And though you know you've probably caught the scent before, it's hard to exactly know what Santal 33 smells like from its product description; Le Labo says online that the perfume is inspired by the Marlboro Man and the American West, with notes of Australian sandalwood, cedarwood, iris, violet, leather, and cardamom.
But whether you've been waiting for a sale to try Santal 33 or need to stockpile the cult scent on a budget while you can, use The Line's Cyber Monday promo code CYBERMONDAY to save 10 percent on the perfume. The discount code makes a 3.4 ounce bottle retail for $243.
What makes Santal 33 and other Le Labo scents so special that shoppers flock to sales like these? It could be the creative combinations that make up the perfumes. Thé Noir, another 3.4 ounce Le Labo perfume on sale at The Line for $243 from $270, describes itself as fresh yet musky, with fig and bay leaf notes. You don't have to be obsessed with perfumes to know that this inventive scent synthesis (and creating a perfume inspired by black tea) is much more unique than a standard floral perfume.
"We're influenced by what we like in other fields and other aesthetics, philosophies, and products," reads a quote from Fabrice Penot with Le Labo co-founder Edouard Roschi on the Estée Lauder Companies website. "We are sensitive to the Wabi Sabi philosophy… finding beauty in the art of eternal movement or the art of imperfection."
Santal 33 fans need to check out the other home and beauty products included in The Line's Cyber Monday sale as well. Much like Le Labo, Grown Alchemist creates alluring scent combinations: this Grown Alchemist body cleanser marries chamomile, bergamot, and rosewood to help you unwind. The preservative-free cleanser also promises to clean and tone skin, with aloe leaf and rosemary leaf extracts listed as the second main ingredients. And just type in code CYBERMONDAY when checking out to discount the body cleanser from $28 to $25.20.
Like putting on your favorite pair of heels or finding the exact shade of red lipstick that works for you, having a signature perfume that subtly lets everyone in the room know you've arrived before they've spotted you is powerful. Explore The Line's sale on Le Labo scents and other home goods below, with 11 finds to buy on Cyber Monday.