Laverne Cox's Style Can Be Summed Up In This Iconic 'Sex & The City' Episode
Emma McIntyre/Getty Images Entertainment/Getty Images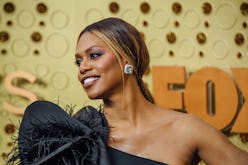 While many probably know actor Laverne Cox for her style, her role as Sophia Burset in Orange Is The Black, and her avid activism, others recognize her for her lesser-known occupation as a Sex & The City historian. That's right, you name the outfit or quote from the iconic show, and Cox will know who wore it and said it as well as what episode it was worn and said in. It's truly a gift.
Yes, Cox revealed in a recent Variety interview her longtime devotion to all things Carrie Bradshaw and SATC (as well as some valid qualms she had with how the show depicted transexual individuals at the time). So when I had the opportunity to sit down with the actor — who is currently promoting her RED campaign with BAND-AID® Brand Adhesive Bandages to fight and end HIV/AIDS in our lifetime — it was clear there was some business to tend to. As it turns out, in addition to the valuable style inspo, the HBO series holds a special emotional connection to Cox. "In early 2000s, I actually worked at Patricia Fields' store on 8th Street in Manhattan," says the actor, referring to the stylist and designer responsible for SATC's looks. "I worked at the makeup counter and it was such an interesting, fun time to be in New York because Sex &The City was currently happening. Because of Carrie Bradshaw, I had all these viscose slip dresses I bought from vintage stores. That was my thing."
Interesting, indeed. The show, which debuted in 1998 and ran until 2004, left quite the mark on pop culture thanks to its edgy and now-iconic fashion moments from its four protagonists: Carrie Bradshaw (played by Sarah Jessica Parker), Charlotte York (played by Kristin Davis), Miranda Hobbes (played by Cynthia Nixon), and Samantha Jones (played by Kim Cattrall).
Among the legions of die-hard fans is Cox, who arguably leads the pack as she can name her favorite ensembles and the episodes they appeared in without skipping a beat. "In Season 3, in the episode where Carrie meets Aidan Shaw's [played by John Corbett] parents, she wore the Dior saddlebag and this gorgeous coat and her hair was just so perfect," recalls Cox. "I just remember loving that look." Not to be outdone were the legions of power suits worn by one Samantha Jones throughout the series in a rainbow variety of bold shades. Topping the charts, however, was the Vivienne Westwood pinstripe suit worn by Bradshaw in Season 4 in the episode titled "A Vogue Idea." "That's definitely my fave of all time," says Cox.
Despite the 15 years since the show's exit, it's clear Bradshaw's penchant for sleek suiting, tulle-touched ensembles, and slip dresses are still influencing Cox's style today. In fact, the actor's most recent red-carpet ensemble, the two-toned ruffled Monsoori gown she wore to the 2019 Emmy Awards delivered major Bradshaw vibes in all its dramatic glory (think: Carrie in Paris).
And it's not just SATC's fab four who've resonated with Cox over the years. No, The Rocky Horror Picture Show actor says other legends of the early aughts like Halle Berry, Naomi Campbell, and Beyoncé all played vital roles in her personal style transformation. "They were all major for me in the late '90s and early 2000s, which was also the beginning of my transition," she recalls. "I used to do my makeup just like Naomi Campbell, and I bought Revlon because Halle Berry repped them, and I had the loose braids like Beyoncé circa Destiny's Child. That was a special time for me because I was sort of figuring out my style."
These days, it's clear Cox has come into her own as far as personal style is concerned, serving up fresh and fierce looks that feel quintessentially her. That said, there's one throwback sartorial habit she can't seem to break, and it involves her love for a solid vintage piece. "I'm utterly obsessed with '80s and '90s Thierry Mugler," she says. "I've amassed a collection of vintage Mugler blazers and they just make me really happy." It's safe to assume Bradshaw would approve.