Laura Mercier's Sleek New Eyeshadow Palette Is Inspired By Classic French-Girl Style
Laura Mercier/Instagram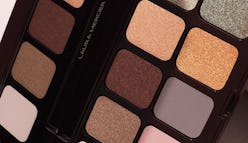 Some things never go out of style. Like red lipstick, or the black boots you wear each autumn (the ones currently sitting in your closet, awaiting chillier days). Oftentimes, whether you really think about it or not, these "classic" elements are inadvertently borrowed from the inimitable French-girl style — you know, the low-key, confident, je ne sais quoi look fashionistas globally have been striving for since the days of Coco Chanel. Luckily, modern brands continue to update these staples — and none more recently than Laura Mercier's Parisian Nudes Eye Shadow Palette. Created with the "classic allure of Parisian style" in mind according to the product description, the brand's newest palette expertly showcases its French roots.
Launched on Sept. 1, the Parisian Nudes palette showcases 12 unique shades in a mix of everyday mattes and glistening foiled shimmers. The colors range from neutral to subtly dramatic — just take a look at the deep, dark navy shade "Nocturne," and the green-tinted platinum "Charneuse."
However, you'll probably dip into Parisian Nudes' softer colors regularly, making it well worth its $55 price tag. This isn't a palette with a complex color story; rather, these are shades you can rely on before stepping out to work, or swipe on before a date, without putting in any extra thought. It's beautifully straightforward.
Fans of the brand have plenty to be happy about this month, too: The palette is just one part of Laura Mercier's Parisian Nudes collection. The brand's fall 2019 launches also feature the $52 La Palette Naturelle Face & Cheek Palette, as well as three new limited-edition shades ("Irrésistible," "Héroine," and "Indépendant") and three new permanent shades ("Charmeuse," "Femme," and "Jolie") of the $28 Velour Extreme Matte Lipstick.
In case you needed one more reason to try out something from the new collection: Laura Mercier is donating 100 percent of Sept. proceeds from the La Palette Naturelle Face & Cheek Palette to the Laura Mercier Ovarian Cancer Fund in honor of National Ovarian Cancer Awareness Month. And to find Laura Mercier's new releases, just keep reading — all of the fall 2019 launches (including your new go-to eyeshadow palette) are ahead.