Laura Mercier's New Liquid Eyeliner Is Summer-Proof — Here's Why
Olivier Degoulange/Shutterstock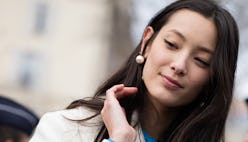 Laura Mercier's Caviar family just got bigger. On May 24, the brand's new Caviar Volume collection — which includes Laura Mercier's Caviar Intense Ink Waterproof Liquid Eyeliner, Panoramic Mascara, and the Artist Eyelash Curler — land in stores. But fans don't need to wait any longer to get their hands on the brand's never-before-seen makeup collection — because Laura Mercier has already unveiled it online and it's available to purchase. Your summer smoky eye is now just a click away.
Because yes, you are going to want this collection before the temperatures rise. While Laura Mercier's cult-favorite Caviar Stick eyeshadows are made to be blend instantly, the brand's new $28 liner promises to stick in one place; Laura Mercier claims the waterproof Caviar eyeliner won't smudge, transfer, or crease, and that the liner will last on your lids for up to 24 hours — making it a must-have for summer, especially if you live anywhere with balmy, humid weather.
Besides its summer-proof formula, the liner's packaging is a game-changer, as well. Laura Mercier paid special attention to the liner's brush tip, noting in the product description that its design was as detailed as a makeup brush's. As you probably know, having a meticulously-fine tip is crucial for virtually any liquid liner look, from one that's subtly defined to a dramatic cat eye; and it allows you to achieve the perfect line in one swoop, instead of painstakingly drawing in a cohesive-looking line. (Been there.)
Similarly, the new Caviar Volume Panoramic Mascara features a wand that's made to get results. Retailing for $25, the Caviar mascara features the brand's "Lash-Hugging Helix Brush" — which allows it to gently apply the formula sans smudging, clumping, and flaking.
And anyone who wants extra volume for their lashes shouldn't forget about the $22 Artist Eyelash Curler. It's exciting to see a major brand like Laura Mercier elevate a classic tool that's often ignored in the makeup industry; after all, how much can you improve the old-fashioned eyelash curler? Apparently, by a lot: Laura Mercier made the curler wider, allowing it to grip every lash and work better with a variety of eye shapes.
So, while you could wait until the new Caviar Volume collection drops at Laura Mercier's retailers May 24 — you also could shop it just by scrolling down. Ahead, all three new products from Laura Mercier.