LANEIGE Finally Created A Daytime Version Of Its Cult-Favorite Lip Sleeping Mask
LANEIGE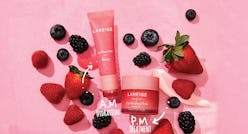 A beauty product's online cult following doesn't always translate into real life fame. But the first time I went to look at LANEIGE's Lip Sleeping Mask in Sephora, there was an actual crowd of women around it. (OK, there were four of us, but that's a lot of people for one lip product on a random back shelf.) One of the ladies was excitedly talking about how she'd been searching everywhere for it, grabbing a box of the jar with her friends. You see, that's the kind of true cult following that lead to LANEIGE's Lip Glowy Balm — a daytime, on-the-go version of the K-beauty brand's fan-favorite lip mask. And yes, because of my fellow Sephora shoppers, I ended up buying the mask that day, too.
And I definitely would've picked up the Lip Glowy Balm, as well, if it'd been available. According to a post on LANEIGE's Instagram, the balm dropped at Sephora on April 3. It only retails for $15, which isn't bad at all when you consider the original Lip Sleeping Mask goes for $20. And like the lip mask, the balm is available in multiple flavors: Beauty fans get to pick between berry, peach, pear, and grapefruit. (The OG lip mask's vanilla scent didn't make the cut.)
Still trying to figure out what a "lip sleeping mask" is, and why anyone needs a day version of it? Long story short, LANEIGE's lip mask is basically the answer to dehydrated, chapped lips. The balm-like product is packaged in a jar, and comes with a soft, reusable applicator. All you need to do is swipe a tiny dollop of the mask onto your lips with the applicator, and fall asleep — the moisturizing, vitamin-rich balm has an 8-hour release time and seeps into your skin as you snooze.
Sounds perfect, right? Almost. Since the lip mask managed to plump and smooth my chronically chapped lips — because yes, it truly does work wonders — I found myself applying it in the morning, too; which lead to somehow wiping off the eight-hour formula while drinking coffee or eating lunch. And though you certainly could bring the jar and applicator with you wherever you go, the new lip balm's tube is way more travel-friendly — letting you reapply it easily after any coffee break. LANEIGE made sure to note the Lip Glowy Balm's formula is tinted and lightweight, too, two pros for daytime wear.
Though the new lip balm has a long way to go until it hits the Lip Sleeping Mask's Sephora review count (currently at 5,336 and counting), it's well on its way to becoming another cult fave. Grab it from Sephora, or from LANEIGE's site below.