Why La Prairie's Newest Launch Is Different Than Your Average Eye Serum
La Prairie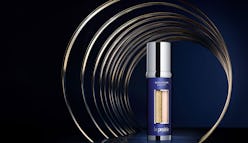 These days, skincare products are rarely just products. To many beauty fans — who tend to their covetable, Instagrammable collections with all of the skill of a museum curator — they're works of art. And La Prairie's recently released Skin Caviar Eye Lift is no different. To the untrained eye, the serum is another prestige beauty launch (and an impressive one at that; a .68-ounce bottle retails for $480). Yet, those in the know will recognize that the precious formula isn't simply luxurious for luxury's sake: Unlike a regular eye serum, which often targets the delicate skin around and beneath your lids, La Prairie's new launch is created to enhance your brow area, as well.
Such skincare innovation calls for an equally aesthetic-focused campaign. Wth its mind on the eyes' natural beauty, La Prairie debuted its Basel-based Art Basel exhibition, "Eyes in Focus" this June. Featuring work by three Swiss photographers and Lausanne University of Art and Design graduates — Daniela Droz, Senta Simond, and Namsa Leuba — the exhibit aimed to "pay homage to the inimitable quality of the female gaze, interpreted by the perspective of women themselves," according to a press email quote from La Prairie's Chief Marketing Officer, Greg Prodromides.
"On this specific work around the eyes, I wanted to illustrate the hidden nature of emotions: hidden in us, they try to cross the veil that covers them," Namsa Leuba tells The Zoe Report over email. "The portraits are framed by an abstract image that represents the inscription in us of the shared experience."
The artist notes that three words come to mind when she thinks of La Prairie — "beauty, aesthetics, and emotion" — and chances are high that Skin Caviar Eye Lift fans agree. The new serum's benefits are the stuff of skincare dreams: It promises to help define your brows, tighten the eye area, and de-puff and smooth your under-eye area. To do so, two top-secret formulas come into play, bringing together La Prairie's caviar beads and a gel-cream emulsion.
"La Prairie illustrates the natural over time and release the feelings attached to it. Time passes, leaving its mark on all of us," Leuba adds. "Sometimes these marks are signs of happiness, others signal other emotions lived."
Regardless of the story your skin tells, La Pairie's new eye serum may be its perfect companion. Ahead, Skin Caviar Eye Lift, available now on laprairie.com.