The New Version Of La Mer's Regenerating Serum Fights Back Against This Unexpected Skin Stressor
La Mer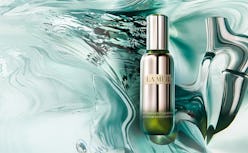 Things have changed a lot over the last decade; the rise of your jeans probably rose, your phone may've shrank (then doubled in size), and your skincare collection has undoubtedly experienced a few monumental shake-ups. Likewise, La Mer's new Regenerating Serum is letting research collected over the last 10 years change up its formula. Unveiled Sept. 1, the new version of the luxury brand's Regenerating Serum — first launched almost a decade ago — is formulated to target your skin's natural metabolism in a modern way.
The research La Mer used unveils a potentially surprising concept: Chronic inflammation can be one of the reasons skin prematurely shows the typical signs of aging, and through decreasing inflammation you can effectively preserve the pre-existing collagen and elastin already found in your skin. (Not exactly sure what "inflammation" means here? La Mer describes it in the product description as "skin's natural response to outside stressors", e.g. pollution or UV light.)
The Regenerating Serum's price is similar to others offered by the seriously luxe skincare brand — a single 1-ounce bottle retails for $365. While not exactly a budget buy, the new formula offers up cutting-edge ingredients from La Mer, such as its brand-new Metabolic Ferment. Formulated with plant stem cells, niacinamide, and the antioxidant glutathione, the Metabolic Ferment assists your skin's natural collagen production, reduces redness, and fights that aforementioned chronic inflammation.
La Mer also included its signature Miracle Broth, a Concentrated Miracle Broth, and a Lime Tea Concentrate, which adds a boost of environment-resisting antioxidants. Besides keeping inflammation at bay, this calming skincare cocktail can spell success for those with sensitive skin; the same environmental aggressors behind skin inflammation can be the reason your face is on the sensitive side.
Like the rest of La Mer's skincare line, the new Regenerating Serum is incredibly easy to use, too. Simply shake up the bottle, sweep one or two pumps of the serum over your face and neck twice a day, and finish up with a moisturizer (Crème de la Mer, anyone?). Which makes it all the more tempting — and if you do find yourself in need of the serum, then just keep scrolling down. The new La Mer Regenerating Serum is below, available on CremeDeLaMer.com.