La Mer Just Introduced A New (& Mega Luxe) Way To Moisturize Your Décolleté
La Mer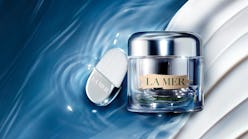 Look, no one needs to tell you that any new La Mer product will be luxurious. It's just a given. This is the brand behind the cult-favorite, celebrity-approved Crème de la Mer, after all — which, if you're not aware, retails for $180 per 1-ounce jar. However, you still may be surprised by just how upscale La Mer's new Neck and Décolleté Concentrate is. It's not just a serum to be applied to your neckline; La Mer's newest addition is packed with a concentrated version of the brand's famously rejuvenating Miracle Broth (and comes with a specific massage routine to help that ingredient soak into your delicate skin, too).
However, the Neck and Décolleté Concentrate is well worth any extra time on your part. It contains three core ingredients: La Mer's concentrated Miracle Broth, an antioxidant-rich lime tea concentrate, and a multifunctional "strengthening ferment" (which helps tone, plump, and even any skin discoloration). When used in tandem with the concentrate's other hydrating ingredients, the formula is a powerhouse; it deeply moisturizes skin while reducing any damage from pollution or daily stressors. Moreover, it also works to fortify your skin's natural collagen and elastin, allowing your skin to feel stronger from the inside out.
Already set on getting your hands on it? You can scoop up a 50-milliliter jar on La Mer's website for $295. That price includes a specific brush to "sweep" the balm-like product over your neck and décolleté skin, as well — the first step in the three-step application process.
From there, La Mer suggests helping the product glide over your skin, smoothing in upward motions and using a light touch. Finally, finish up by massaging the product gently into your décolleté and neck. Be prepared to add this to your morning makeup and evening skincare routines, too; La Mer notes online that you can apply the Neck and Décolleté Concentrate twice a day.
Shop La Mer's new Neck and Décolleté Concentrate on the brand's website, or at select retailers such as Nordstrom or Neiman Marcus. Below, La Mer's inventive new way to moisturize all of your skin — even where it may be the most delicate.