The Cult-Favorite Crème de La Mer Got A Makeover (& It's Only Available For A Very Limited Time)
La Mer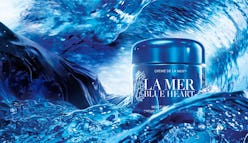 Let's be real: Even if you've never once used La Mer's iconic Crème de La Mer moisturizer, you probably know all about it. Simply put, the moisturizer is on a different playing field, known for its ability to smooth skin, clear redness, and deeply hydrate. It's one of the few skincare products with household name-level recognition (and a price tag to match its cult following). But with the unveiling of La Mer's limited-edition Blue Heart Crème de La Mer, it may be finally time to move the famous moisturizer from wishlist to shopping cart. On June 8 — otherwise known as World Ocean's Day — the brand's iconic face cream received a luxurious, deep blue makeover; and it's one that's only available for 30 days.
Better yet, La Mer is harnessing its powerful popularity for good. For each public Instagram post of the jar made in May and June using both hashtags #LaMerBlueHeart and #LaMerDonation, La Mer will donate $25 to the La Mer Blue Heart Oceans Fund — which has been used to support ocean preservation initiatives since it was established in 2017.
You can still get in on the cause even if ordering one of the $490 jars isn't in your budget, too. La Mer will honor any posts made using imagery of the Blue Heart Crème de La Mer from its own Instagram or website, and has pledged to donate up to $650,000 to the fund.
Longtime La Mer fans — and Crème de La Mer devotees — probably saw this coming. The brand is tightly intertwined with ocean conservation, and debuting a new, limited-edition Crème de La Mer jar inspired by it has become an annual event. The 2019 jar is a beauty, as well: It bathes the classic white Crème de La Mer packaging in a shimmery blue, and covers it in illustrations of coral and sea kelp.
And if this is your first time hearing about Crème de La Mer, there's no better place to start than with the collectible jar; the 3.4-ounce Blue Heart edition retails for the same price as the regular Crème de La Mer. So, continue scrolling down to shop the Blue Heart Crème de La Mer — and don't forget to snap a pic for IG (and hashtag accordingly) once you receive it in the mail.