This Swedish Skincare Brand Just Released Natural Tattoo Products (& Its Fans Will Be *Very* Excited)
Courtesy of L:a Bruket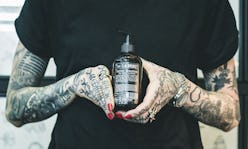 At first glance, the demographic for L:a Bruket's new tattoo care line may seem like a small — albeit very cool — niche. Unveiled on labruket-usa.com July 1, the three tattoo aftercare products fit right into the Swedish brand's chic, non-toxic skincare portfolio. But, as it turns out, L:a Bruket's move is one that tattooed shoppers have been waiting for; after all, if the rest of your skin care is natural, why should you have to turn to harsh antibacterial soaps the second you indulge in a new tattoo?
"L:a Bruket is known to have a philosophy evolving around questions we ask ourselves and the corresponding solutions related to lifestyle, health in general, and skin health in particular as a natural way to beauty," Mats Johansson, L:a Bruket co-founder, tells The Zoe Report over email. "Add that to the fact that Sweden is amongst the top three most tattooed countries in the world then you understand that unavoidably we have been approached so many times with questions around how to care for these precious works of art."
Although Johansson admits to seeing aftercare products on the horizon for quite some time (noting that the team has "a weak spot for any art expression and this one in particular"), it took a nudge from tattoo artists to get the ball rolling. "It was only when we received a push from our friends at Sang Bleu tattoo studio in London that we really became serious with the idea to develop a natural tattoo care range," Johansson explains. "Their inspiration really formed the line as they were vital in development. They expressed their concern and needs around tattoo-related products and together we developed an in-depth understanding of the core dimensions we needed to solve."
The solution? A comprehensive three-step line that covers cleansing, disinfecting, and moisturizing your new ink — and replaces any go-to aftercare products currently stowed away in your bathroom cabinet. First up is the $30 No. 189 Tattoo Cleanser, a mild yet powerful rinse for fresh tattoos. "It will not dehydrate the skin, but gently cleanses and calms the skin," explains Teja Mulic, L:a Bruket skincare advisor, to The Zoe Report via email. "The star ingredients include tea tree oil as it contains anti-inflammatory properties, aloe vera that soothes, and lavender that calms. These ingredients have been used for centuries to help repair and relax sore/injured skin."
Then comes a layer of the $25 No. 190 Tattoo After Care. "This soothing balm with ensure that the tattoo will stay moisturized and not get dry or scabbed. It also contains tea tree oil and lavender along with black cumin, arnica extract, and anise extract — together these ingredients will calm skin as well as create a bacteriostatic environment (one that bacteria have difficulty multiplying in)," Mulic says.
Though as you may know, tattoo care doesn't stop there. "Once the tattoo has healed, then apply the Tattoo Daily Protection cream once per day, in the morning," Mulic adds, referring to L:a Bruket's $30 sun-resistant moisturizer. "This product is formulated with titanium dioxide which acts as a sun filter to help the tattoo stay fresh and vibrant in colors by protecting it from bleaching and losing its contours. It also contains calming sage, rosemary, and lavender."
Beyond their efficacy and all-natural ingredient lists, the new products also open the door on an interesting dialog: The lack of tailored skincare products for those with tattoos. "The area of tattoo care is toeing the line to the medical field because of the skin's reaction when tattooed — that might be the reason why there aren't many luxury options that have been developed," Johansson explains.
However, it's one the skincare aficionados at L:a Bruket were ready to provide. "We on the other hand, with our holistic approach to healthy skin, see this as an important category to approach since it is very relevant to us and our audience," Johansson says. "We also have confidence in ourselves to develop skincare formulas to solve skin problems — this comes from 10 years of developing natural skincare solutions and knowing that our products offer results that actually work, without the synthetic ingredients."
Shop L:a Bruket's Tattoo Care Line
Additional reporting by Jessica L. Yarbrough.