Kurt Lyle Just Released The White Wear-With-Everything Mules Your Closet Is Missing
KURT LYLE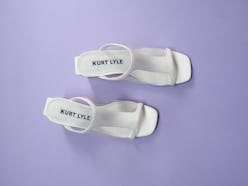 A wear-with-everything shoe — you know, a pair that's elevated enough to match up with trousers or a skirt for the office but can still be seamlessly styled with jeans for a casual weekend brunch. These shoes are the gems of a closet and the key to rounding out a wardrobe; however, they're not always easy to come by and can take hours of scrolling to locate. That said, you can put off clicking through pages of footwear for now, because Kurt Lyle's spring 2019 shoe collection holds a set of mules that you'll undoubtably be slipping into all summer long.
All it takes is one peek at Kurt Lyle's "Carlotta Mule" to see it checks off key boxes to earn itself a spot as a member in the "wear-with-everything shoe club." Ringing in for $298, the white leather and PVC mule manages to find the balance of being trend-forward and wearable with its clean design in a fresh white hue. Plus, its 2-inch block heel makes it a style you can comfortably move around in from morning until night (and even dance in at weddings).
However, if you're loving the shape of this style but are after more of a statement-maker, peek at its colorful counterpart. Bringing two of the seasons' favorite hues together — chartreuse and purple — this version of the "Carlotta Mule" will easily bring an outfit to life. Keep your look sleek up top and let the shoes really shine by pairing them with a fitted black capri and an oversized white blouse.
Another style that'll likely end up on heavy rotation for the next five months? The "Mimi Slide" for $268. The eye-catching leather sandal's easy-to-wear silhouette will add interest to any look with its punchy colored, block heel and delicate crystal-buckle closure. Coming in three different color combinations, grab the slides in a neutral white with a minty green heel or select a playful hot pink heeled pair with a classic brown upper. Or, to go bold, opt for the purple hue with a chartreuse block heel.
Continue on to scoop up the mules you need for this season as well as other styles from Kurt Lyle's new collection that'll have you dressing from the feet up.