If You're Looking For The Most Luxurious Valentine's Day Gift Ever, This Candle Is It
Krigler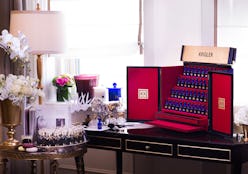 Valentine's Day isn't just around the corner; the hour of ordering any elaborately romantic presents has arrived. You may think you know what you want to get the luxury lover in your life. But if you're in the market to make an unforgettably grand gesture for Valentine's Day this year — that your significant other could never see coming — just pick your favorite from Krigler's scented candle collection. Because who doesn't love a mood-setting candle on Valentine's Day?
Especially one that measures eight inches tall, weighs seven pounds, and will cost you $1,250. Move over, other luxury candles. Krigler is redefining what it means to create luxury, high-end candles in 2019.
You may recognize the candlemaker's name if you love incredible perfume and classic Hollywood. The brand made perfumes famously worn by Audrey Hepburn, Marlene Dietrich, and Grace Kelly, just to name a few. Ben Krigler, fifth-generation perfumer and current owner of Krigler, reminisced with Vanity Fair about selling Jackie Kennedy "Lovely Patchouli 55"; Krigler's website describes the luxurious perfume as "magnetically stimulating".
The Allegra candle's price tag may be starting to make sense now. You can choose to have your Allegra candle filled with one of nine scents, including Lovely Patchouli 55 Classic and Audrey Hepburn's beloved English Promenade 19. The highly-scented candles are made with a 15 percent perfume base, and Krigler estimates that the burn time should be around 200 hours — giving you plenty of time to lounge around the house luxuriously as it burns, imagining you're eating breakfast at Tiffany's or simply basking in the fact that you're casually burning a $1,250 candle.
In true old Hollywood style, only a few of the Allegra vases are created, and your candle will be numbered. Krigler also offers special pricing for candle refills once yours is finished to keep the magic going; simply ship the vessel back to Krigler and choose to stay with the same fragrance, or try out something new.
Although the Allegra candle vase is available in six different color options, the Allegra Scarlet is the one to go with on Valentine's Day. Below, Krigler's Allegra candle, for buying or window-shopping purposes.