Krigler's New Perfume Pays Homage To Palm Beach & It's As Luxe As You'd Expect
KRIGLER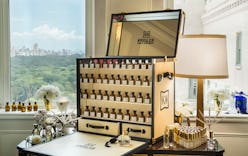 If you were to rank iconic fragrance houses, Krigler would likely sit high on the list. After all, the perfumery has been churning out luxe scents since 1904 that have been worn by a very high-profile clientele throughout the years, including Audrey Hepburn, Grace Kelly, and F. Scott Fitzgerald. And now, just in time for the official start to summer, Krigler's New Palm Dream 219 fragrance has been released — and it's a scent that'll transport you from the confines of your office to the chic resort town of Palm Beach with just a few spritzes.
Known to be an elegant beach-side retreat, it's easy to see why the luxury perfume brand would look to Palm Beach for its latest fragrance. Ringing in for $475 for a 100-milliliter bottle (or $365 for 50 milliliters), the summer-ready scent was not only influenced by the Krigler family's own holidays to the sunny destination, but the glamorous crowd that's flocked to its sandy beaches and polo matches for decades. On top of that, the launch coincides with the opening of the newest Krigler Boutique inside the Four Seasons Palm Beach Hotel.
"Palm Dream 2019 celebrates, Palm Beach's High Society, the beautiful exotic Floridian nature and bringing glitz and glamour back where it belongs," noted Ben Krigler, current head of the family fragrance business, in a press release from the brand.
So, what can you expect from the unisex fragrance? Described in a press release as a "woody-floral laced with spice," the aroma brings together fresh notes of orange blossom and raspberry with leather, vanilla, cedarwood, and amber wood. The final key ingredient in the sophisticated scent? Orris, the root of the iris plant, which is known to be one of the most expensive fragrance ingredients in the world.
Making this perfume even more classy is the fact that it's housed in the brand's signature glass bottle, complete with a delicate ribbon and a simple yet eye-catching label. The addition of this stylishly understated vessel to your collection will no doubt elevate your vanity and give it an old Hollywood feel.
And with the arrival of the warmest months of the year on the horizon, there's no better time to scoop up a fresh scent for summer days. That said, Palm Dream 219 could be just what your perfume lineup is missing. Continue on to shop the fragrance below, and consider snagging one for a Father's Day gift, too, while you're at it.