Kourtney Kardashian, Irina Shayk, Jennifer Lopez, & More Are Obsessed With This Swimsuit
Rodin Eckenroth/Getty Images Entertainment/Getty Images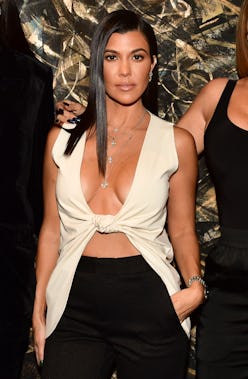 There shall be no more talk of autumn until after the Sept. Equinox, please. Instead, let's discuss vacation and what the it-girls are wearing on theirs — that Gooseberry one piece, namely . Kourtney Kardashian, Irina Shayk, and Ciara's beach getaways simply wouldn't have been the same without this chic piece.
In case you've already unfollowed Kardashian out of sheer envy, here's a little update on her world travels of late: The family commenced their trip with some quality yachting in Costa Rica in mid-July, then jetted over to Italy, where they were joined by supermodel sister Kendall Jenner in Sardegna, and eventually landed in Idaho for an all-American camping excursion.
The Poosh founder has been spamming Instagram feeds with dreamy sunsets and swimsuit pics throughout the entire thing. The mom of three seems to have an affinity for high-waisted bikini bottoms and classic one pieces like that celebrity-favorite one from Gooseberry.
The So Chic One Piece has adorned the likes of Irina Shayk, Ciara, Kendall Jenner, Jennifer Lopez, Alessandra Ambrosio, Candice Swanepoel, Olivia Munn, Kaia Gerber (the list just goes on) over the past few years.
Why are they so obsessed with it? Well, the suit comes in nearly a dozen different colors and offers a simple silhouette that complements any body type. They're all in the $100 range, too, not that it matters to their bank accounts.
Kendall Jenner has it in lime-green (obviously) while J.Lo has one in metallic silver to align with her over-the-top glamorous aesthetic. Munn's is a pretty mossy green and Gerber's is a fiery red shade, fittingly. Kardashian's, on the other hand, is a deep purple color the brand calls Cacao.
The 40-year-old posted an Instagram photo of her in it while sitting on the edge of a bathtub, presumably somewhere lust-worthy like Portofino ... *sigh.* The suit features a super low-cut neckline, gold hardware, and sits extra-high on the hips like all the girls are wearing them these days.
Best of all, it's still available for those of you who have one last summer trip coming up (and the rest of us who don't). Kardashian's one piece and others like it, ahead.
Shop The Look