This Basics Brand Just Launched A Home Collection & It's A Minimalist's Dream
COURTESY OF KOTN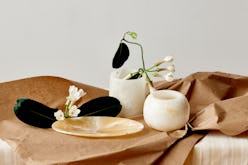 While larger furniture pieces are important for any room, it's often the smaller items that bring a space to life and give it character. That said, sourcing those special décor pieces takes a lot of time, and often you end up spending more money than planned. Luckily, Kotn's home collection has just launched and it's serving up an array of beautiful, well-priced items to spruce up your shelves and table tops.
If you're not familiar with Kotn, the brand is know for delivering high-quality and ethically made closet essentials that don't carry a high price tag. And as of April 15, Kotn now offers a home category, describing it on its website as "a collection of items that, like Kotn, have been made with care for people that care."
This carefully-curated range of items put together by founders Rami Helali, Mackenzie Yeates, and Benjamin Sehl includes everything from non-toxic home products and clean-burning candles to travel books (among other items). However, it's the selection of "Souk" pieces that have been brought back from the markets in Cairo, the ceramics hand-thrown in the Faiyum Oasis, and the textiles hand-woven in Akhmim, Egypt, that you should seek out especially for your living spaces.
On that note, if you've been on the hunt for a beautiful vessel to hold your flowers and greenery, peek at this blown Glass Vase in Emerald for $50. Pair it with its tall and slender counterpart, also $50, to add a pop of color to your dining table and create visual interest.
Equally as beautiful as the glassware is the range of ceramic pieces that feature a pretty color palette on simple, minimal shapes. In the mix you'll find a $32 speckled ceramic jar and a two-tone vase for $30 — both will bring a unique touch to your bookshelves or coffee table.
Additionally, scope out smaller dishes like the marble Mini Ribbed Alabaster Catchall, $35, to hold keys and other small items on your entrance-hall table or nightstand. Also not to be overlooked? An ivory-hued, oval marble dish that'll pair up nicely with the cream and caramel striped bed throw, $95, for a Mother's Day gift.
Ahead, more stunning pieces from the new collection to help you complete your perfectly minimal home.