A Bunch Of Koral Leggings Are On Sale & Under $100 At Bandier Right Now
Bandier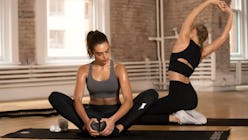 Now that it's February, there's a good chance that you've moved on from the pressure of living up to any lofty new year's resolutions you might have set up for yourself. But if living a healthier life was one of those goals for 2019 and you've decided to stick to it this far in — perhaps on a more relaxed scale — then you have every right to stock up on new workout gear, right? Right. Luckily for you, there are a number of chic activewear pieces like Koral leggings on sale at Bandier right now, along with more pieces to help you step up your gym game in style.
Let's face it: No matter what level of commitment you dedicate to heading to the gym or niche studio, finding a pair of quality leggings that feel good while also keeping your workout look as put-together as your day-to-day life is often easier said than done. But thanks to brands like Alala, P.E. Nation, Koral, and more, you have a range of options that'll get you excited to break a sweat.
Whether you want to wear something bright and colorful for your next workout, or you prefer a minimalist approach to the gym, Bandier's sale section has you covered with plenty of pieces under $100. Wear the Alo High Waist Moto Legging for a cool edge whenever you're working out. This chic style is currently on sale for $79 and has been approved by Gigi Hadid as well as a number of other It girls. Another great option for those who like to keep it simple is the Harlow High Rise Energy Legging by Koral, which features a sleek sheen and is also on sale for $79.
Just in case you want to add some more color to your workouts without diving head-first into vibrant prints, the Synergy Legging in Nude and Shell Spacedye by We Over Me is a beautiful style to wear in the ever-popular millennial pink shade and is available for $74. If you want to sport something (no pun intended) that feels a little bolder, the Without Limits Legging from P.E. Nation will have you feeling like you're ready to take on anything and costs $59.97.
Now that you're in the mood to start curating your workout wardrobe, scroll down to see more stylish leggings that are on sale at Bandier now. Whether you're planning for an intense CrossFit session or simply going on a jog with your friend, you just can't go wrong with any of these options.