You'll Want To Wear This Sporty, Sexy Eye Look From Kith x Versace Tonight
Courtesy of Maybelline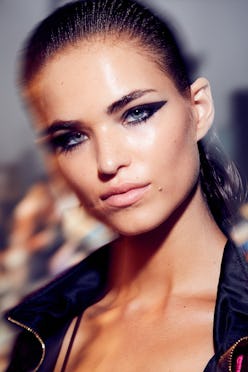 You can't do Versace without a major eye look.
Backstage at Kith Park, the streetwear brand's four-part show that included collaborations with Tommy Hilfiger, Greg Lauren, and Versace, each collection got a distinct makeup from Maybelline makeup artist Grace Lee. One in particular stood out — Kith x Versace's sexy, sporty evening eye: a look that I instantly wanted to recreate. And unlike your standard sooty situation, Lee's cat-graphic eye hybrid is surprisingly easy to execute using items already in your kit. Inspired by Donatella Versace's signature black-rimmed eyes, '90s supermodels with a hint of Kith's low-key tomboy, Lee started with a palette of brown shadows, but soon realized the look needed the severity of a true Donatella moment. She ditched the muddy tones and encouraged her team to employ the inkiest products in their kits.
"It was a play on negative space, so it wasn't black all over," Lee explained to TZR backstage before the show. "I think it's more interesting when they blink." Rather than fill in the entire lid with pigment, Lee traced the lash line and crease with Eyestudio Lasting Drama Gel Pencil Eyeliner in Sleek Onyx, leaving the lid's center bare. For those with wobbly hands, Lee has a precision trick that works like bumpers on a bowling lane: Simply hold a tissue along the outer corner of the eye and let the edge guide your liner. And since slip-ups still happen, she suggests keeping Maybelline's Master Fixer Makeup Remover Pen on hand to correct any asymmetries and smudges. Pro tip: The handy eraser tip also works to clean up lipstick smears. Once the graphic liner was in place, Lee loaded top and bottom lashes with Volum' Express The Falsies Mascara to emphasize the shape.
If you're ready to experiment with Kith x Versace's exaggerated onyx eye, the key to pulling off an extreme look like this one IRL is balance. Case in point, Lee skipped cheek pigment or discernible contour and instead gave skin a clean, almost monotone finish using Fit Me Matte and Poreless Foundation. Brows were brushed-up, and lips were kept bare, save for a bit of beige lipstick. Best of all: the makeup just gets better as the night goes on.
As for what to pair with your sexy, kohl-rimmed eyes? According to Kith Founder Ronnie Fieg and Miss Versace herself — the latter of whom is no stranger to decadent opulence — the bolder the better: The collection itself had no shortage of logos, Baroque prints, signature Versace prints, and a heck of a lot of skin, putting the last name in the coffin for minimalism.
Though this was the first collaboration of its kind, Kith is no stranger to partnering up with big-name brands: Founder Ronnie Fieg's worked with Coco Cola, Moncler, and UNDFTD — but it's clear from his recent Instagram photo announcing the brand's latest collab that he's humbled to work with the Italian legacy brand. He wrote: "I worked with Donatella Versace on a collection that will stand as a very important notch in our timeline. I don't want to give away too much info before the show. Tomorrow, Kith Park™️ is going to change things." No word on when the collection will hit stores, but we're betting it'll sell out in seconds. The good news? You can still try Lee's sexy makeup look with or without the merch.