The KitchenAid Mixer With A Near-Perfect Rating Is On Sale At Sur La Table Right Now
Sur La Table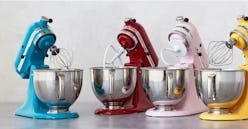 If you weren't aware, 2019 is a big year for KitchenAid. Both the brand and the very first model of its famous stand mixer turn 100 years old this year. Although it may not be in celebration of the big birthday, Sur La Table's sale on KitchenAid mixers will help you get into the partying mood. The store has marked down KitchenAid stand mixers, accessories, and other appliances up to 45 percent off the suggested retail prices — so you may end up making Sur La Table a celebratory cake with your new discounted mixer, too.
The stand mixer that currently sits on kitchen counters across America looks pretty different from the original KitchenAid model, which you can see on the brand's website. The mixer didn't take on its trademark shape until 1937, but to its credit, it's remained a cult classic ever since. This 5-quart KitchenAid stand mixer has over 1,300 perfect reviews on Sur La Table, and more ecstatic comments from home chefs than you could probably read in a day.
On sale at $279.96 from $379.95, the stand mixer can be used for — surprise, surprise — mixing, but works just as well kneading, whipping, stirring, and more. You can find a color that'll fit into your kitchen perfectly from KitchenAid's huge selection; the discount mixer's currently available in over 20 colors ranging from contemporary matte black to a retro teal named "Ice".
The mixer's array of built-in functions pale in comparison to the power add-on attachments bring to the table. Simply pick up the originally $199.95 pasta attachment set while it's marked down to $149.96 to quickly whip up homemade Italian dinners every night using only your stand mixer. Or, get in on the veggie noodle trend and pick up the KitchenAid Spiralizer Attachment, on sale for $74.96 from $99.95. The spiralizer is attached to the motor mount and will easily prep vegetable spirals without you lifting a finger. With over 1,100 5-star reviews for the spiralizer attachment alone, it'd be a safe bet to go ahead and order it along with your mixer.
A century has passed and it doesn't seem like KitchenAid's stand mixers will become less popular any time soon. Keep scrolling down to browse some of the best mixers from Sur La Table's sale, along with attachments and other KitchenAid appliances.