Kevyn Aucoin Added A New Kind Of Foundation To Its Collection & Fans Are Already Loving It
IMAXTREE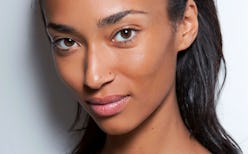 If you've visited the online beauty community this week, you've probably encountered the ever-growing buzz around one product in particular: Kevyn Aucoin's new Foundation Balm. Unveiled Aug. 9, the $52 foundation is exactly what it sounds like — not a powder, not a liquid, but a creamy, full-coverage balm. With it comes the benefits of a traditional skin-soothing face balm, as well; besides providing a buildable base for your makeup routine, the foundation is formulated with hyaluronic acid, vitamin E, and skin barrier-reinforcing avocado oil.
As you may've guessed, the innovative product made quite a splash over on the popular beauty Instagram page @trendmood1, where a picture of the new Foundation Balm garnered more than 34,000 likes. The foundation is currently available in 20 shades; three in the "Fair" category, two in "Light", two in "Light/Medium", five in "Medium", three in "Medium/Deep", and five in "Deep." Three undertones are included — "Pink", "Yellow", and "Neutral" — with Kevyn Aucoin's website featuring a Foundation Balm color wheel to help online shoppers find the right shade.
As for the finish, it's advertised as silky and flawless, though Kevyn Aucoin notes online that anyone after a dewy glow can apply the brand's Neo-Elixir Weightless Beauty Oil before the complexion product to achieve a glossier finish. (And in case you're curious, Sephora has classified the balm as a matte cream foundation.)
While the foundation is intriguing all on its own, the formula's versatility may be even more noteworthy. In the product description, Kevyn Aucoin lists that the Foundation Balm can be used as an eyeshadow base, contour, or applied over your arms and legs, crediting the formula's powder-like finish as the key reason why. Using it just as a foundation is simple, too: Just "swirl" the foundation with the Foundation Balm Brush (which comes included) and stroke the product over your skin. It's that easy.
You can shop Kevyn Aucoin's new Foundation Balm on the brand's website; the brand also notes on its Instagram that it's available at Sephora, Space NK, and Bluemercury. Below, the new Foundation Balm — because it's time to see what all the buzz is about.