Kelly Rowland's Unexpected Turtleneck Look Is Daring & We're Following Her Lead
Christian Vierig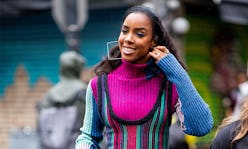 While the models on Monday's 3.1 Phillip Lim runway donned minimalist looks for spring 2019, Kelly Rowland layered up in a color-blocked turtleneck-and-dress combo as she watched from the front row. It seems as though the former Destiny's Child member has picked up a few tips from the designer's Fall/Winter New York Fashion Week showcase earlier this year, which featured cozy, patterned sweaters and turtlenecks layered under thin-knit dresses and tank tops. Rowland made the trendy pairing of a turtleneck and dress look foolproof with an ensemble plucked straight from the runway.
Rowland bundled up in the vibrant getup at New Design High School in New York, seated alongside models Liya Kebede and Salem Mitchell, Khalid, and former Teen Vogue editor-in-chief Elaine Welteroth. It's no surprise that she was seated front and center at the Sept. 10 show, either, seeing as she recently told Essence that she considers Phillip Lim to be "one of her favorite designers."
When Rowland's look debuted on the runway in February, it was paired with a fur, animal-print pony coat, as well as a leather-sleeved bomber and floral-scarf duo. But the high-neck sweater pairs well with the plunging neckline of Lim's floor-length knit dress, especially with Rowland's twist: She ditched the predictable black shoe and opted for white-patent boots instead.
Get The Look
As it turns out, turtlenecks have seemingly become the signature look of the season (from Jaimie Chung's peak-a-boo polka dot ruffled top to the neon turtleneck fashion influencer Camila Coelho wore under a plaid blazer during NYFW). And what better way to continue wearing your favorite summer dresses when temps plummet than layered over a cozy turtleneck? You can see clearly from the cut of Rowland's dress that this chic coupling works with every neckline, too.
Like Rowland, don't be afraid to go bold with a turtleneck and dress combo — the more prints, fabrics, and textures the better. Playful pattern combos and bohemian proportions make for a great daytime look, while the trend can also be dressed up with chic basics — say, a slender cashmere turtleneck under a velour dress.
Ready to test out the look for yourself? Ahead, find The Zoe Report's favorite Rowland-inspired turtlenecks and dresses to wear into cold-weather season.
Shop Turtleneck-And-Dress Combos