Kelly Rowland On Her New Workout Collection And Why Victoria Beckham Is Her Style Icon — Exclusive
Courtesy Fabletics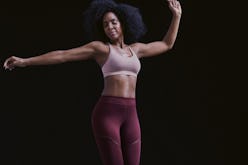 "When I think of dance, I think about it being one of my earliest memories. When I started out, I could not dance," Kelly Rowland laughs to me over the phone. "[But] once I started to get into my moves, it just made me feel good — my body felt good." You may have come to know Rowland first as a part of Destiny's Child, the '90s girl group that you can thank for so-catchy-it-hurts songs like Say My Name and Independent Women. But Rowland recounts her past life to me not to reminisce, but to excitedly explain her future. Kelly Rowland is launching a Fabletics collection that's inspired by her love of dance. And, whether you're expert level or your cardio consists of bopping to the radio during your commute, Rowland created her debut designs with you in mind.
"I always see dance as a celebration," she explains. "I wanted this to be a celebration for women, for freedom, for being able to move your body and not be restricted from anything. To be comfortable in your skin." The pieces, which range from sleek bodysuits, to strappy sports bras and delicate leggings, are all grounded in Rowland's love of both fashion and exercise. "I wanted to make sure I put together a collection that still made you feel fly after your workout, she notes. "Even if you're a little sweaty, you're still able to breathe, you have a little skin showing, and it makes you feel a little bit more sexy."
Though, today it may seem de rigeur for a celebrity to use their name on a line they may not have had much sartorial influence over, in Rowland's case, she says the partnership with Fabletics is one that grew out of mutual respect and a shared vision. "The relationship came about through a mutual friend, they knew how much I love working out and knew the folks over at Fabletics," she explains, adding that from the beginning she hit it off with the brand. "We had the same creative ideas and vibe. That's what I love about collaboration the most, is that it's organic — it was easy the way it all came about."
The 17-piece collection includes an extended range of sizes — from XXS to 3X — and is priced from $25 to $65. And while the items were all designed to be worn as whole outfits, each piece is easy to mix-and-match, whether it be with other separates from the collection or with your favorite off-duty staples. Rowland explains that her own crazy schedule — going from dropping her son off at school, to meetings, to the gym — drives her desire to create pieces that are about more than just function. "The collection has to be able to agree with my lifestyle, because I wanted it to be authentic," she says.
Keeping the collection true to her own style was Rowland's priority throughout the process. In addition to highlighting her love of dance, she looked to find ways to bring her off-duty sensibility into her collection. Rowland explains that in the last few years, she's ramped up the color in her wardrobe, but when she has time to relax at home, she tends towards neutrals and pared down hues like wine red that she can mix and match easily. "These are colors I wear all the time," she notes.
The idea of athleisure, pieces designed to help women feel both comfortable and stylish, has permeated popular culture as the line between work and off-duty life continues to blur. But, for Rowland, there's really only one rule of thumb, "when it comes to fashion, there really are no rules except authenticity ... that's one of the things I love about Victoria Beckham; she's my style icon," she explains speaking to the designer's minimalist style (and knack for expertly adding in pops of color). Like Beckham, Roland may have had her start in a record-breaking '90s girl group, but today she's empowering women through an entirely new medium, what they wear.
Below, find a selection of Rowland's debut collection for Fabletics.